How It Works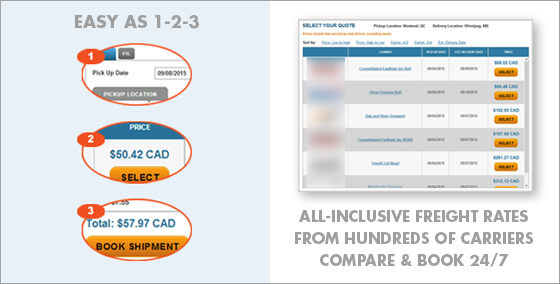 Freightera makes freight shipping transparent and easy! These days, it's easy to book a flight or hotel online – and for shippers, Freightera works the same way.
1. Type in the shipment origin and destination, dates and quantity of freight
2. See selection of available trucks and rates
3. Choose the deal you want!
Get the best shipping rates
Carrier posts their broker discount rates and extra capacity directly to the public on Freightera's online marketplace. That's how shippers get better rates. Carriers post last-minute deals as they scramble to fill up trucks delays and cancellations – potentially saving your business a lot of money.
Who Uses Freightera
Businesses shipping goods
Our 3,000+ shippers include manufacturers, wholesalers, importers and distributors who need to ship freight in the most efficient and cost-effective way. It's difficult for all but the largest companies to negotiate volume discounts on shipping. Freightera levels the playing field.
Carriers
Carriers in North America need a more efficient and cost-effective way to manage their truck inventory. They want an easy way to find new customers without investing more in sales and marketing. Freightera helps 100s of carriers with these needs, letting them focus on what they do best: getting freight where it needs to go.
Shippers – Sign up and start shipping now
FREIGHTERA. A Better Way to Ship Freight.