Before the Truck has Purred Make Sure You're Insured

At Your One-Stop-Shop When it Comes to Shipping, You Can Now Get Additional Insurance Coverage Too!
You've been asking for it and it's finally here! Our instant, additional third-party insurance for your freight shipping needs.
Statistically, your shipment only has about a 2% chance of getting lost or damaged during transit. This sounds like a pretty reasonable margin, considering the amount of freight that gets moved around daily. That is, it sounds reasonable until it happens to you.
Carrier standard liability covers about $2/lbs which means that if your shipment weighs 500 lbs, it would be covered for $1000 regardless of its value. Depending on what it is you ship, that could be plenty or it could be pocket change compared to what you need.
We're proud to announce that we've integrated third-party insurance into our system that allows you to instantly add additional insurance based on the value of your shipment. 
Once you've booked your shipment, you'll be taken to another page, where you will be able to request additional insurance if you need it. 

After you've clicked the "Yes, add extra insurance" button, you will see an additional menu appear. 
Simply enter the amount you'd like to insure. For example, we've selected to insure aircraft parts for $14,000 CAD for the purpose of this example.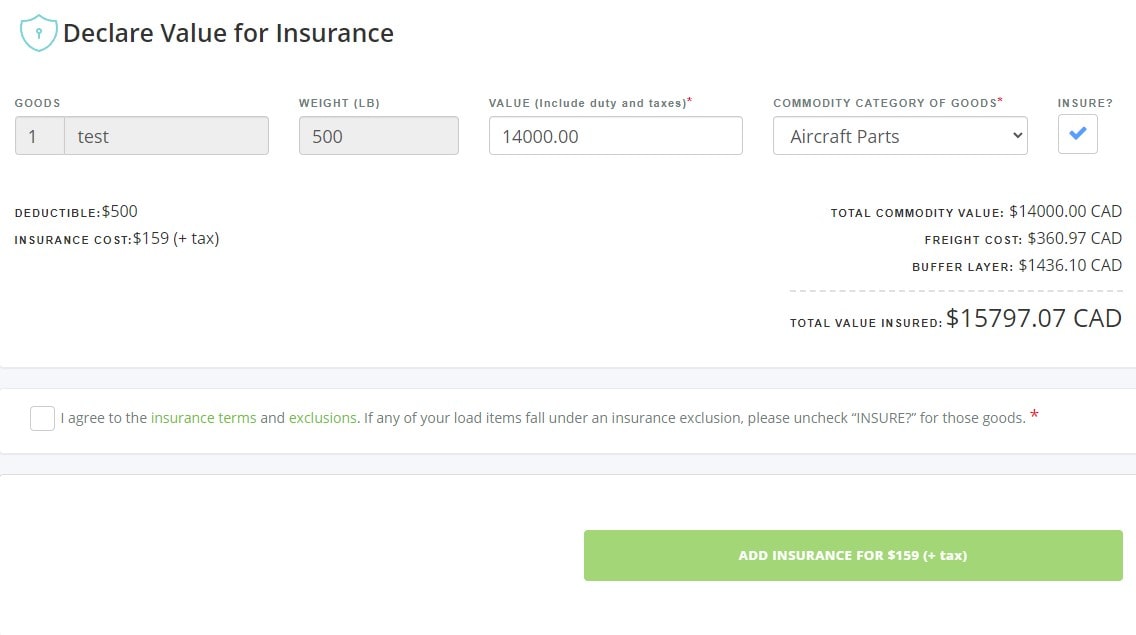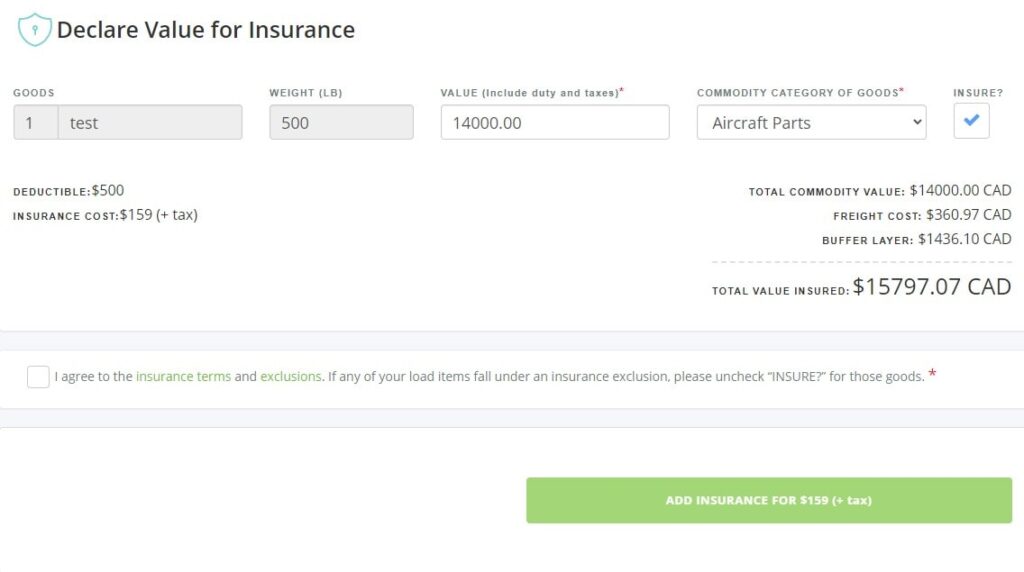 After entering the amount and selecting the cargo type, simply click on the add insurance button (which will also show the price of the additional insurance) and you're good to go.
After that, you'll be taken to the payment page as usual, and you'll be done. Your shipment is booked, and your cargo is insured. It's as easy and quick as that.
The only thing left to do now is to test it out yourself! Get your quote, book your shipment, and check out our amazing, instant additional insurance software. 
If you happen to have any additional questions, concerns, or commodity suggestions, please feel free to contact our Client Care team at clientcare@freightera.com! You'll get everything you may need from them!