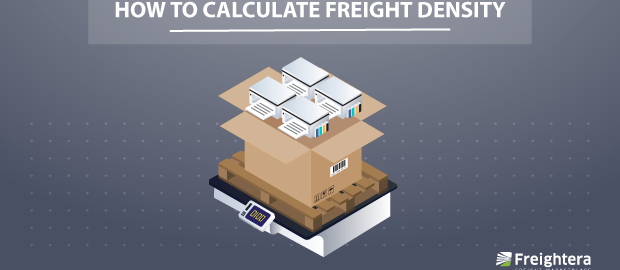 How to Calculate Freight Density
[Updated May 2019]
No matter how large, heavy, fragile, easy to handle or complex your less than a truckload (i.e. LTL) freight shipment is, it should be priced fairly. Please see our How to Calculate Freight Density infographic below or click here to see our Freight Density Calculator page on Freightera website.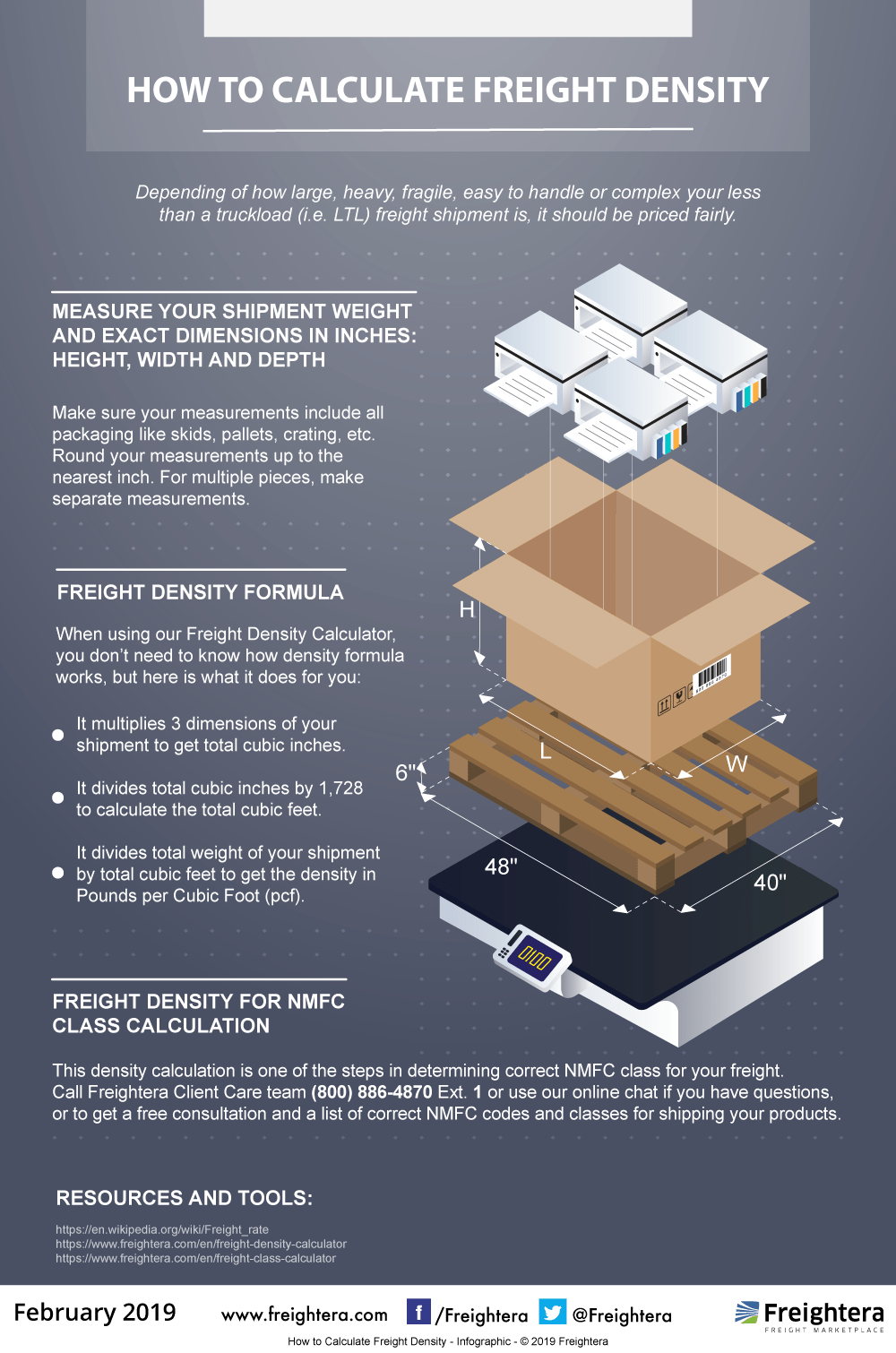 Measure Your Shipment Weight and Exact Dimensions in Inches: Length, Width, and Height
Make sure your measurements include all packaging like skids, pallets, crating, etc. Round your measurements up to the nearest inch. For multiple pieces, make separate measurements.
Freight Density Formula
When using our Freight Density Calculator, you don't need to know how density formula works, but here is what it does for you:
It multiplies 3 dimensions of your shipment to get total cubic inches.
It divides total cubic inches by 1,728 to calculate the total cubic feet.
It divides total weight of your shipment by total cubic feet to get the density in Pounds per Cubic Foot (pcf).
Freight Density for NMFC Class Calculation
This density calculation is one of the steps in determining correct NMFC class for your freight.
Call Freightera Client Care team (800) 886-4870 Ext. 1 or use our Online Chat if you have questions, or to get a consultation and a list of correct NMFC codes and classes for shipping your products.
Hungry for more learning?
You may also be interested in these informational articles of our blog (they're specifically written and designed to help YOU, the customer, make better informed shipping decisions & ship with a peace of mind).
Start with:
Choose the best freight options for your shipping needs:
Freight how-tos:
Extra reading (because sustainability is important!)
Ready to book and save time & money on shipping?
Register here. Quotes are all online, easy, affordable and all-inclusive.
Questions? Call our Client Care team to set up a consultation today: 800 886 4870 Ext. 1, write to us at clientcare@freightera.com, or visit our Help Center!
Not so sure? Read what our customers say about our rates and service.