How to Calculate Freight Rates [Infographic]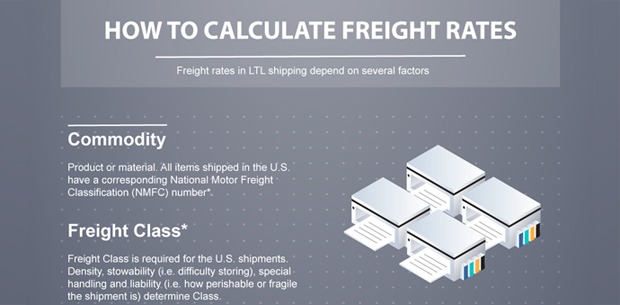 How to Calculate Freight Rates
Updated May 2019
Many factors go into calculating freight rates and doing it on a case by case basis is very time-consuming. Phone tag is the reality of the freight industry currently: customers call freight brokers, who then call transport companies to find out the shipping rates for their customers. The back-and-forth is inevitable, incredibly inefficient, and time-consuming (not to mention stressful!).
So what's different at Freightera?
At Freightera, we want to make freight shipping and finding freight rates as easy and accessible as possible. Time is money, money is time, and we want to save yours! Freightera is an Expedia-like marketplace, an online platform for shippers with instant freight rates from hundreds of carriers. You can just fill out your origin and destination, enter the information about what you ship and freight rates are instantly calculated for you in a matter of seconds.
See our infographic below to learn what goes into calculating freight shipping costs. Once you see the complexity you will understand that getting instant freight rates online is a remarkable advancement. But before jumping to our LTL rates calculator page, please see our graphic below to appreciate what's being computed on the background.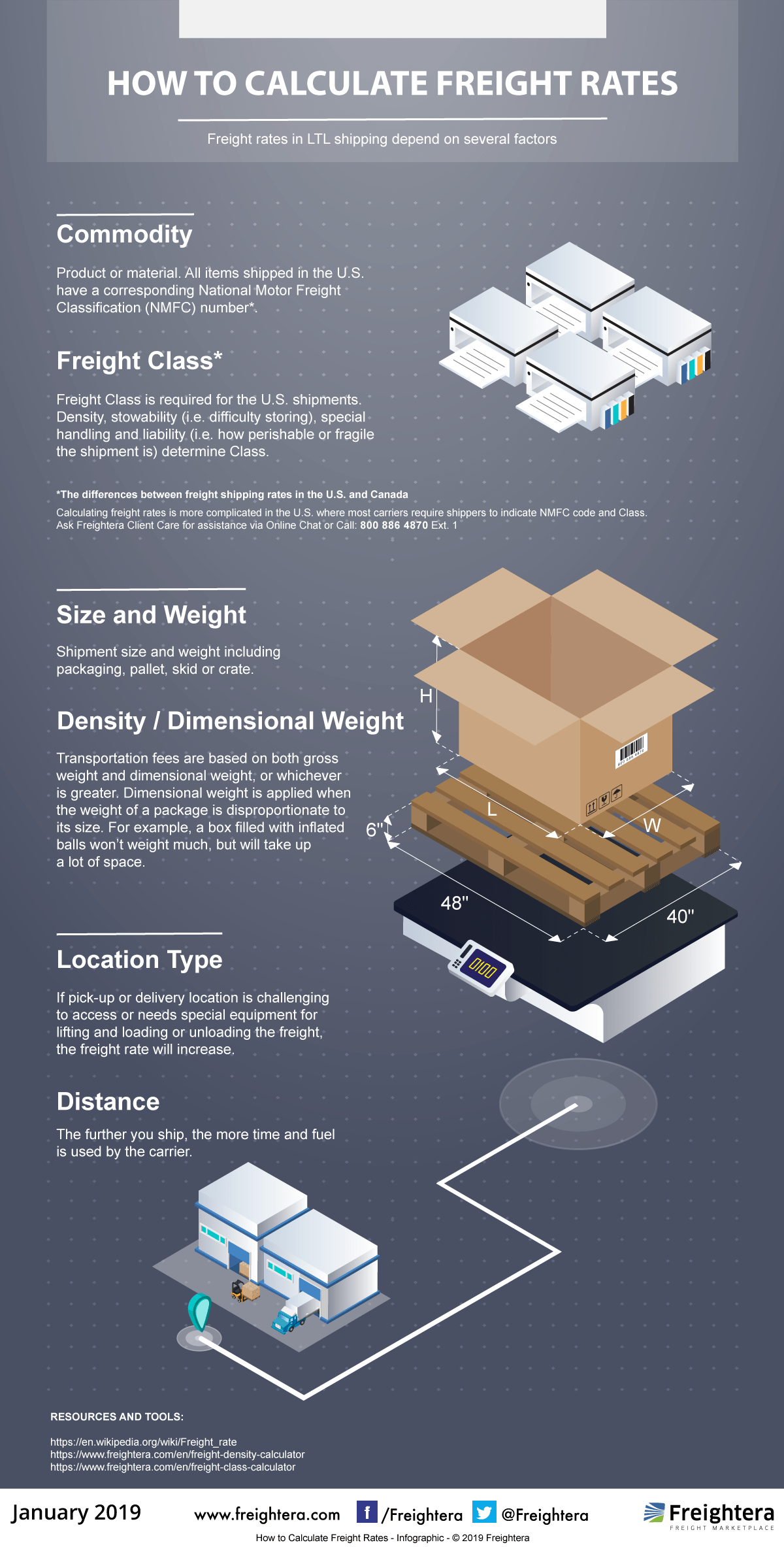 Freight Rates in LTL Shipping Determined by Several Factors
Commodity
Product or material.
All items shipped in the U.S. have a corresponding National Motor Freight Classification (NMFC) number.
Size and Weight
Shipment size and weight including packaging, pallet, skid or crate.
Freight Density
Transportation fees are based on both gross weight and dimensional weight, or whichever is greater. Dimensional weight is applied when the weight of a package is disproportionate to its size. For example, a box filled with inflated balls won't weight much, but will take up a lot of space.
Freight Class
Freight Class is required for the U.S. shipments. Density, stowability (i.e. difficulty storing), special handling and liability (i.e. how perishable or fragile the shipment is) determine Class.
Location Type
If pick-up or delivery location is challenging to access or needs special equipment for lifting and loading or unloading the freight, the freight rate will increase.
Distance
The further you ship, the more time and fuel is used by the carrier.
The differences between freight shipping rates in the U.S. and Canada
Please note that information in this article is based on LTL rates calculation rules in the U.S. and Canada. Calculating freight rates is more complicated in the U.S. where most carriers require shippers to indicate NMFC code and Class. NMFC code and Class are not used in Canada, where carriers use dimensional weight or skid-based rates. In the U.S.-Canada cross-border shipping, NMFC code and Class requirements are typically required depending on the carrier.
Ready to book and save time & money on shipping? Get Canada and USA freight rates on Freightera.com.