Canadian Shipper: Freightera has a plan to become the Amazon of the freight industry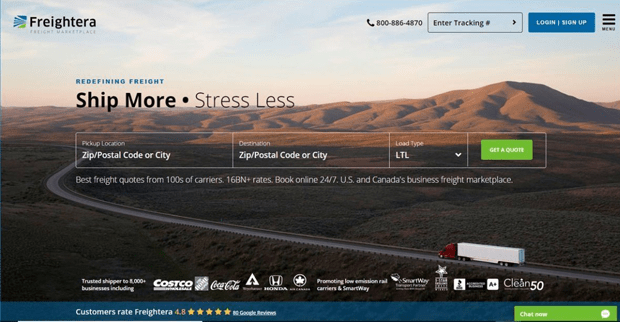 Canadian Shipper just published an article about Freightera's ambitious mission. The story is written by Dan Goodwill, one of the top journalists and leading experts on freight transportation in North America. It describes the state of the industry that is vitally important economically, enormously large and highly fragmented. "Shippers that move freight across North America have always faced the challenge of finding a set of trucking and rail service providers with the precise range of services, geographic coverage and rates that meet their needs. Since no single asset-based transportation provider can meet the needs of all shippers, the trucking industry has long relied on the thousands of third-party brokers, essentially travel agents for the freight transportation industry, who connect shippers and carriers."
Freightera, very much like online travel sites, removed the brokers from the equation and connected shippers and carriers directly. "Freightera is one of the only companies that has created a fixed cost model with data directly from carriers. It has found a way to enter carriers' rates from multiple modes in their data management system so shippers can compare rates from carriers of all sizes and transport modes in one place."
Freightera is frequently compared with the "Expedia for Freight" but it's designed to integrate the entire global transportation market. "We are thinking about a fully integrated global marketplace," states CEO Eric Beckwitt. Just as Amazon started with distributing books in the United States, Freightera started with automating the less than a truckload (LTL) transportation in the US and Canada and plans to emulate the Amazon approach to create a model for a global freight network.
"Mr. Beckwitt advised that "we are thinking big picture as to where the industry needs to be in 20 to 30 years from an automation, environment and social perspective. We are thinking about a fully integrated global marketplace."
The Freightera team is very proud of its vision of creating a fully integrated global logistics system that is automated, efficient, 24/7, low emission, that produces multiple fixed cost quotes, with all required shipping documents. The company expects to have its core international system in place in 3 to 5 years that will include air, ocean, and surface transportation. Its growth is dependent on the speed of funding, development and hiring quality people.
The market is recognizing Freightera's achievements and its flight plan. Frost & Sullivan has just featured Freightera as one of the Key Automated On-Demand Brokerage Solutions along with Convoy and Uber Freight (http://www.frost.com/sublib/display-report.do?id=K252-01-00-00-00) and nominated the company for a Visionary Innovation Leadership Award in the Digital Freight Brokerage Industry. Mr. Beckwitt concluded our discussion by stating that Freightera has "the audacity to make its vision a reality."
Read the entire article on Canadian Shipper and on Dan Goodwill's blog.