How Shipment Dimensions Affect Quotes

How Your Shipment's Dimensions Are Preventing You From Getting the Best Possible Freight Quote
Obviously, there are limitations to how some things can be packaged. For instance, if you're shipping a slab of granite, you're unlikely to be able to split it into several smaller pieces just for shipping purposes. 
However, if you're shipping pretty much anything else, you might be missing out on some of the best freight quotes available. That is why in this article, we'll be covering some of the issues that arise when shipping oversized or overweight cargo. Read on to learn more below.
Tailgate restrictions are weight and dimension restrictions imposed by carriers due to their tailgates' limitations. These are safety precautions based on what can safely be loaded or unloaded by a tailgate. 
The weight restrictions are pretty simple.  They represent how much weight a tailgate can hold without breaking. For example, if your shipment weighs 3000 lbs, but a tailgate can only accommodate 2000 lbs, it simply will not be able to lift the shipment up to truck level. In a worst-case scenario, the tailgate could even be damaged.
The dimensional restrictions represent the length, width, and height of a shipment that a tailgate can hold without the risk of the cargo tipping or falling over. Usually, the length and width limitations are the same as the dimensions of the tailgate itself. Carriers don't allow any overhang due to the much higher risk of damage to the shipment itself. 
You can run into dimensional restrictions issues in two ways:
You can enter dimensions on our quoting page which exceed the carriers' restrictions which will simply prevent you from getting the best available rates for the lanes you're looking for.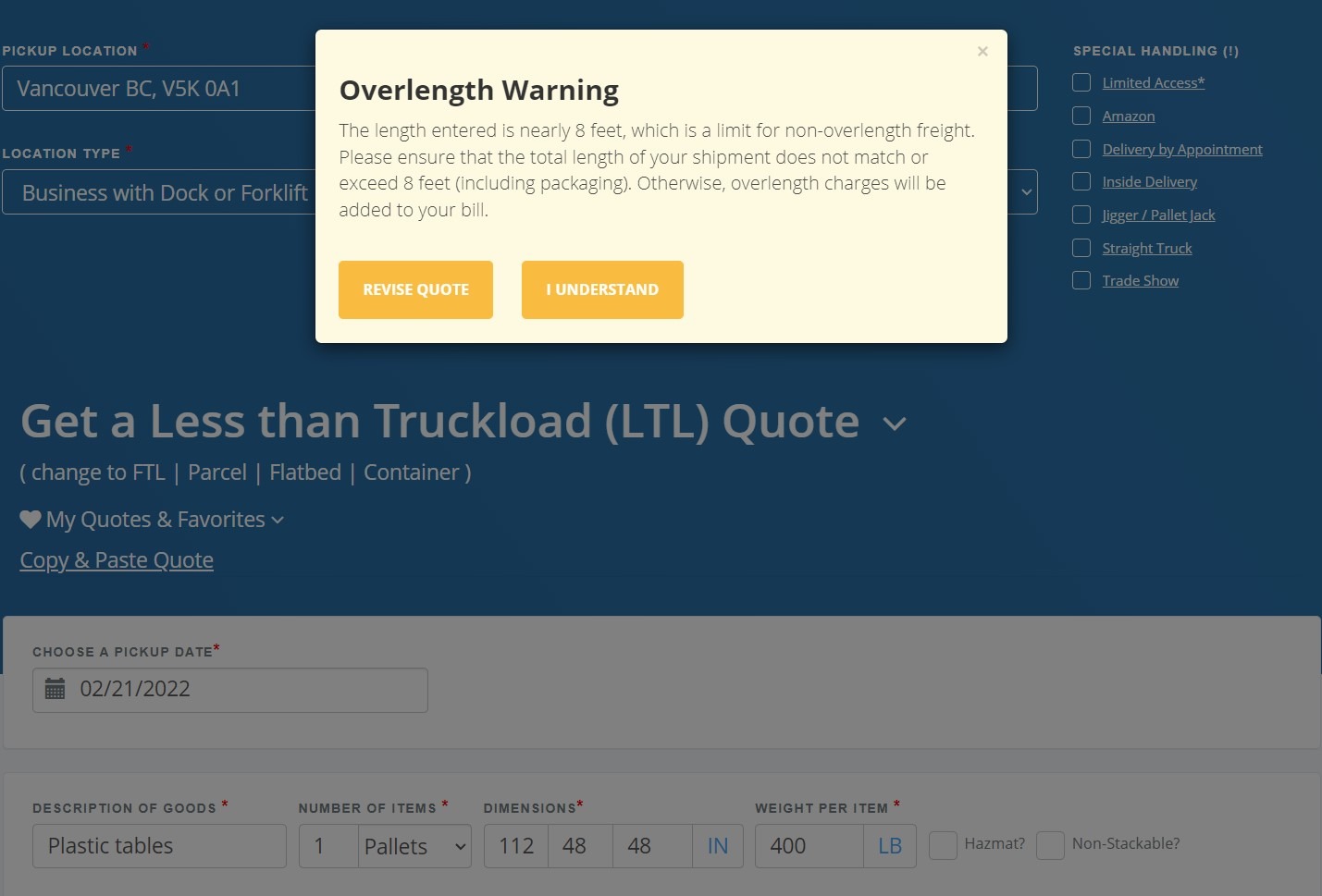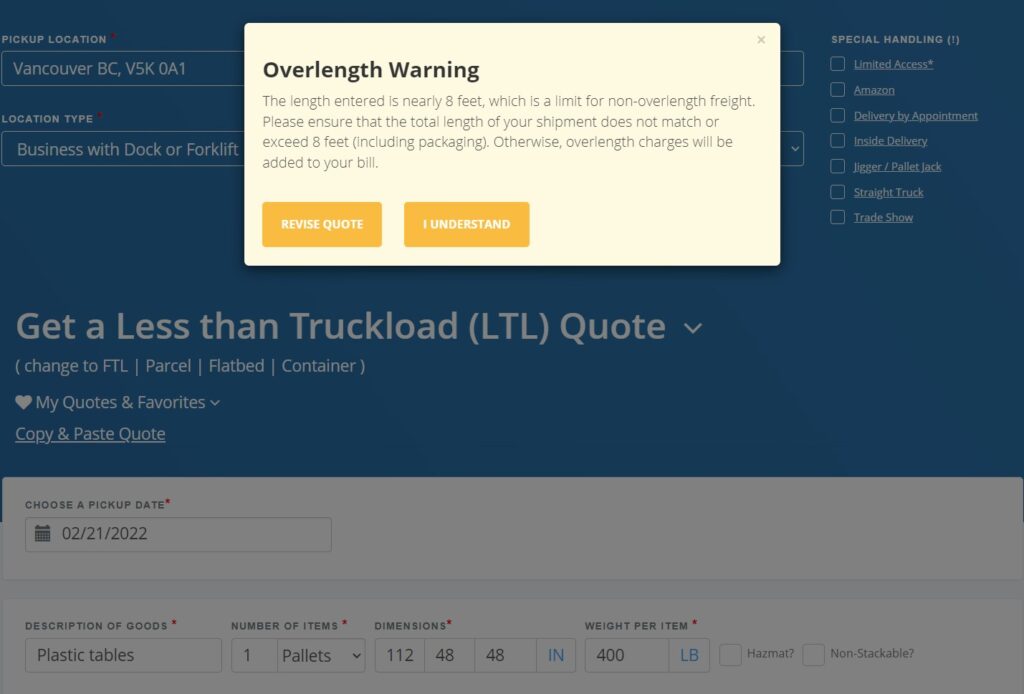 You can enter incorrect information during the quoting process and do get a competitive quote which the carrier cannot honor upon picking up the shipment. 
You can easily avoid the first of these two issues if you are able to repackage your shipment into several smaller pallets. As long as the individual pallet can safely fit on a tailgate, you will be able to get competitive rates and ship your cargo without worries. 
You can prevent the second issue pretty easily as well, given that the shipment is accurately measured and weighed prior to shipping or quoting. Instead of entering lower measurements in order to get a rate that will not be valid in the first place, consider renting a forklift or picking up/dropping off your shipment at a carrier terminal. 
You will also want to consider creating a free account on our website to get the best all-inclusive freight quotes. Our staff works tirelessly to make sure our clients have the smoothest shipping experience possible. 
If you have any questions, you can chat with us, call our Client Care team at (800) 886-4870 Ext. 1, or reach out by email at [email protected].
Happy shipping! 🙂