Eric Beckwitt Speaking at CleanTech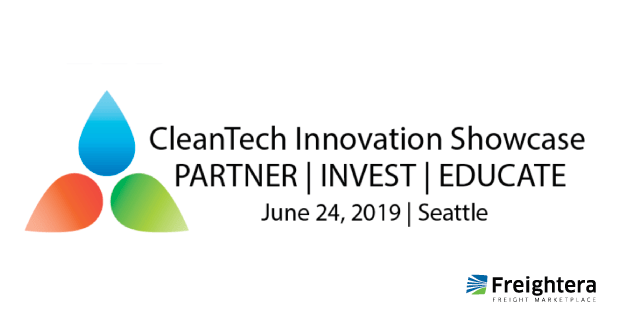 Freightera CEO Eric Beckwitt was selected as a keynote speaker for the 2019 CleanTech Innovation Showcase at Bell Harbor International Conference Center in Seattle on June 24
Please join us there!
From the press release by CleanTech Alliance: "One of this year's keynote speakers for the Showcase include Eric Beckwitt, the Founder and CEO of Freightera, the North American platform for automating and reducing emissions from freight transport. Mr. Beckwitt is an internationally recognized author and speaker on emissions reduction from freight transport, authoring "A Green Future for Freight" in the 2016 and 2018 G7 Summit editions of Climate Change: The New Economy. Beckwitt was a speaker at COP22, the United Nations Climate Change Conference in Marrakesh, Morocco. He recently received the 2019 Clean50 Award, which recognizes Canada's leaders in sustainability for their contributions over the prior two years. Eric is a passionate and effective cleantech leader and entrepreneur who is actively engaged in disrupting a very important sector to our state and region: freight transportation," said Tom Ranken, President, and CEO of the CleanTech Alliance. "We are delighted that he will be speaking to the ways his company is using technology to improve freight transport while ensuring cost-effective efficiencies and reducing the carbon footprint of the sector."
The sixth annual 2019 CleanTech Innovation Showcase at Bell Harbor International Conference Center will take place in Seattle on June 24 — this year with more participation from outside North America. For the first time ever, in partnership with the Western Interstate Energy Board, the Showcase will feature a second-day innovation workshop dedicated to advancing cooperative energy projects across the west and with the federal government. The Showcase will be especially important this year in light of proposed legislation to support Washington state's transition to carbon-neutral energy by 2030 and carbon-free energy by 2045. The Showcase helps link policy, applied and basic research, and technology development to achieve a cleaner economy and environment locally and globally.
Click here for CleanTech Alliance Press Release and here for the registration for the CleanTech Innovation Showcase 2019.
Read more about Freightera's green freight marketplace.