Freightera Now Has 2.5 Billion Freight Lanes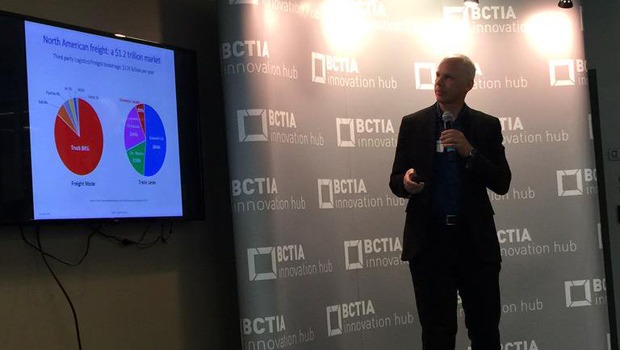 Freightera Brings Online 2.5 Billion Freight Lanes Serving 20k+ Towns & Cities
Flying under the VC radar, stealth Canadian freight automation startup Freightera expands coverage to most Canadian and US communities, now serving 2.5 billion LTL, truckload and rail lanes to over 10,000 industrial shippers, with ambitious plans to reduce emissions from trucking and to unify the disjointed transportation industry.
Vancouver, BC November 5, 2015.
Freightera, the Vancouver-based online freight marketplace, is gaining momentum, bringing online and automating an average of 140 million lanes per month in Canada, the US, and cross-border markets.
Freightera's rapid growth has been recognized by the BC Technology Industry Association, which selected Freightera for their HyperGrowth accelerator program among the most promising BC tech startups to transform their industries.
Traditional freight, consisting of hundreds of thousands of trucking companies, has been largely untouched by online automation. It is slow, costly, and inconvenient for most shippers. It routinely takes hours and days just to get quotes from carriers or brokers. Freightera's quotes are instant, Expedia-like. It also adds a layer of protection. Quotes are all-inclusive. Shippers that could get surprise surcharges working with trucking companies directly are protected by Freightera. There is never a surprise bill. Freightera makes shipping as easy as booking a flight online, and customers love that convenience. Manufacturers, distributors, and wholesalers are booking repeat shipments on Freightera 24/7.
Freightera's mission doesn't stop with freight automation, however. Freight transportation is one of the most polluting industries in the world, and Freightera's founders are committed to reducing greenhouse gas emissions. Freightera's first step is to get all possible long-haul freight moved by rail. Rail generally emits 65% less carbon dioxide than trucks and costs about 60% less. Long-haul rail rates are already available on Freightera, with seamless last-mile pickup and delivery by truck.
Eighty percent of returning full-load trucks on the road are empty. To reduce waste, emissions, and cost, Freightera is creating new technologies to track empty trucks and match them with loads. For their environmentally conscious customers, Freightera is also creating a system that allows shippers to select the lowest emission option when booking freight and is collaborating with industry leaders in greening transportation. "We're already working with economic development commissions, energy providers, and government agencies," says Freightera's CEO Eric Beckwitt, "We're appealing to Canada's new Prime Minister Justin Trudeau to get involved. We see sustainable electric-powered transportation as the future of freight, and we are here to help make it happen."
As freight optimization becomes recognized as an important economic and environmental issue, the Canadian company's founder is upbeat. "Our coverage in Canada is unbeatable and we are expanding cross-border and to the US very quickly. Energy waste and pollution from freight are serious global problems. The more companies get involved in making freight more efficient, the better," says Freightera CEO Eric Beckwitt, "My personal goal is to significantly reduce air pollution from freight. It's one of our core objectives and part of our company DNA. After all, we moved our family to Canada because of life-threatening asthma our son had in California."
Freightera's vision is the opposite of disruption. It is stitching together and organizing multiple disjointed pieces of the global freight transportation system. "Our customers need to ship everywhere. Demand for their products does not stop at the border," CEO Eric Beckwitt continued, "At buildout, our system will allow shippers to easily get quotes and book freight between any two locations on earth in seconds."
About Freightera
Vancouver-based technology company Freightera offers the only B2B online freight marketplace in North America with instant freight quotes from hundreds of carriers of all sizes and one-click bookings, serving manufacturers, wholesalers, distributors, and other businesses that need a consistently best-priced, simple, and hassle-free shipping solution in a time of increased stress and information overload.
Visit our website for more information about Freightera and trucking companies we've partnered with.