We Celebrated our 7th Birthday!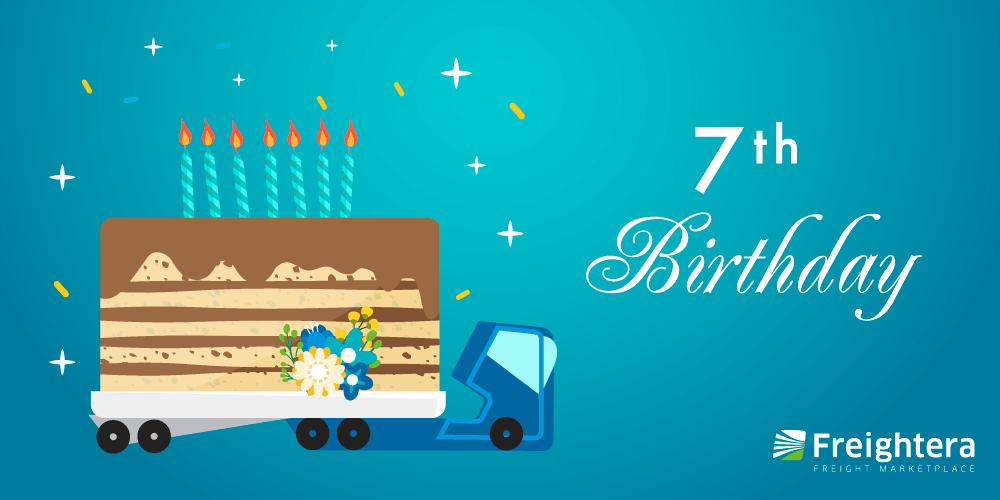 It was Freightera's 7th birthday on May 4th! 🎉🎂
⭐⭐⭐⭐⭐ We Celebrated our 7th Birthday with Incredible Reviews from our Amazing Customers!
This is big news, not only because most startups rarely make it past the age of 5 (so we consider ourselves lucky — and we must be doing at least something right 😉), but also because during the past year we've had a record number of bookings and returning customers who are satisfied with their freight shipping experience with Freightera.
Here's what our customers had to say about our website, speed, customer service, prices, and the company in general:
Freightera website is user-friendly

First time user of Freightera & the website was extremely user friendly. I was able to find a great price to ship two pallets to Corner Brook, Newfoundland. Our freight was picked up on schedule and we were provided a tracking # to follow our shipment the whole way. It arrived with no issue & there were no hidden fees. Great experience all around.
Freightera website is easy to use

I could not be more satisfied with the service, from beginning to end it was great and very user friendly. I appreciate how easy the website is to use and understand and the customer service was helpful and informative. I will be using Freightera again and will recommend it to others who might need freight services.
Freightera interface is simple and fast and makes it easy to book freight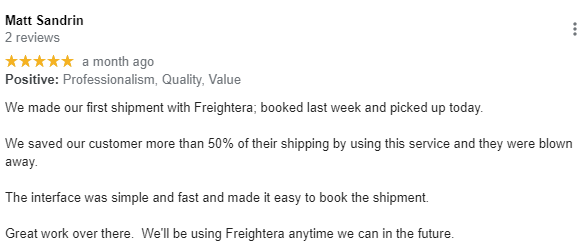 We made our first shipment with Freightera; booked last week and picked up today.
We saved our customer more than 50% of their shipping by using this service and they were blown away.
The interface was simple and fast and made it easy to book the shipment.
Great work over there. We'll be using Freightera anytime we can in the future.
Freightera has excellent service, price, and quality

Freightera has excellent service, price and quality. I sent a pallet from Toronto to Quebec and the delivery time for the shipment was 24 hours. They give quotes quickly and professionally. I definitely recommend Freightera's service.
Professional and responsive team

What a great team. Very professional and responsive. Load was shipped from the US into Canada without any issues. We have used other companies in the past with varied results. The Freightera team actually cared as much about the delivery as our company did. A rare find these days. Don't hesitate – give them a shot.
Competitive quotes

I have used Freightera for two shipments so far. Each time I instantly received multiple competitive options with great timelines. Each time the execution was seamless and the freight was delivered ahead of schedule. I will be procuring all my LTL freight with Freightera from now on.
Freightera will have my continued loyalty

This has been our third engagement with Freightera and our second with Caterina. Caterina made the required commercial paperwork for the cross border transaction seem easy peasy and most importantly, the shipment was picked up on time and delivered within 3 business days -fantastic! Caterina chased down every detail for us, the service and follow up impeccable. Our agreed price was right on with competing outfits and there was no surprise surcharges. Freightera will have my continued loyalty with their "Call anytime, we'll get it done" attitude and guess what? A real person answers the phone! 5 STARS FOR FREIGHTERA !!
Best client experience ever!

Very quick to reply

, efficient to find solution, best client experience ever! You're doing an amazing job. Julien help me a lot in my international freight!
Always quick to respond to questions and quote requests

Always quick to respond to any questions and quote requests,very easy to arrange shipping jobs.
Best priced solution for our shipping needs

Thank you for taking off

our hands the work of finding best priced solution for our delivery needs
These guys are the real deal!

These guys are fantastic! I couldn't image working with the 5 different carriers to get the best pricing. These guys are the real deal!!!
Thank you for your reviews, your business, and your trust, dear customers! We wouldn't be celebrating our birthday if it weren't for you ❤️