Freightera Customer Reviews – 2022

Let These Three Reviews We've Received Recently Tell You Why You Want to Give Freightera a Shot
We've received some wonderful feedback from our clients over the years. Recently, we've received some reviews that we actually wanted to frame. 
However, this being the internet, we'll settle for the next best thing and we'll eternalize them on the web. 
Here are some of the reviews from our wonderful clients that we wanted to share with you!
Behind curtain number one we have:
A review that our client left happy with finding an intuitive shipping platform for the little guy.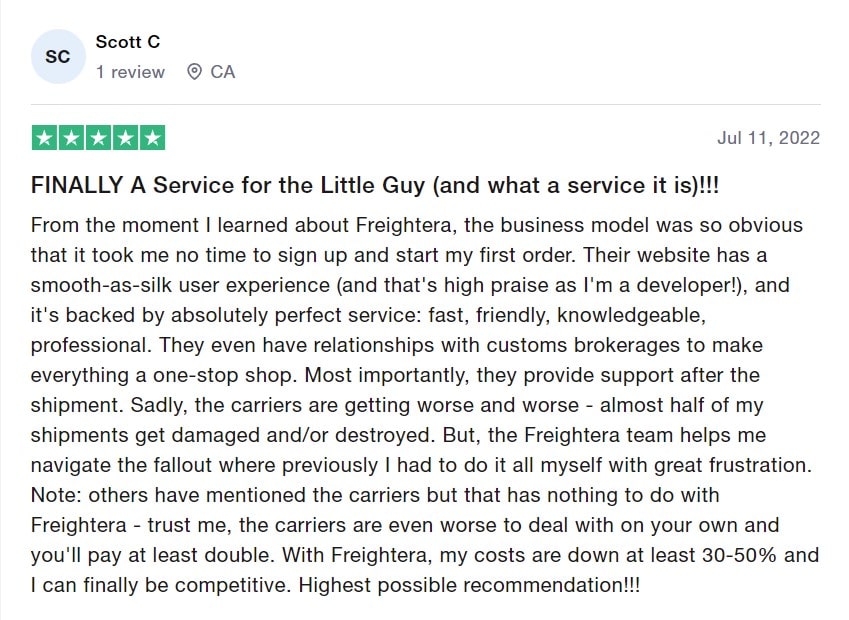 FINALLY A Service for the Little Guy (and what a service it is)!!!
From the moment I learned about Freightera, the business model was so obvious that it took me no time to sign up and start my first order. Their website has a smooth-as-silk user experience (and that's high praise as I'm a developer!), and it's backed by absolutely perfect service: fast, friendly, knowledgeable, and professional. They even have relationships with customs brokerages to make everything a one-stop shop. Most importantly, they provide support after the shipment. Sadly, the carriers are getting worse and worse – almost half of my shipments get damaged and/or destroyed. But, the Freightera team helps me navigate the fallout where previously I had to do it all myself with great frustration. Note: others have mentioned the carriers but that has nothing to do with Freightera – trust me, the carriers are even worse to deal with on your own and you'll pay at least double. With Freightera, my costs are down at least 30-50% and I can finally be competitive. Highest possible recommendation!!!
Behind curtain number two:
Another client is happy with one of our Client Care representatives and their responsiveness. In this case, it was Elena!

Shipping with Freightera is simple and the site is very user-friendly. The rates are very good as well. The customer service agent (Elena) was very professional and reliable. She answer my questions very quickly, and she also follow up to make sure that everything was going well. I will definitely continue to use Freightera for all my business's shipping needs. It is also a big plus that I got to speak to an agent in a timely manner without the long dreadful wait times.
And behind curtain number three:
Last, but not least, we have a comment left by a client that has mostly worked with one of our agents, Nevena, who always does a bang-up job!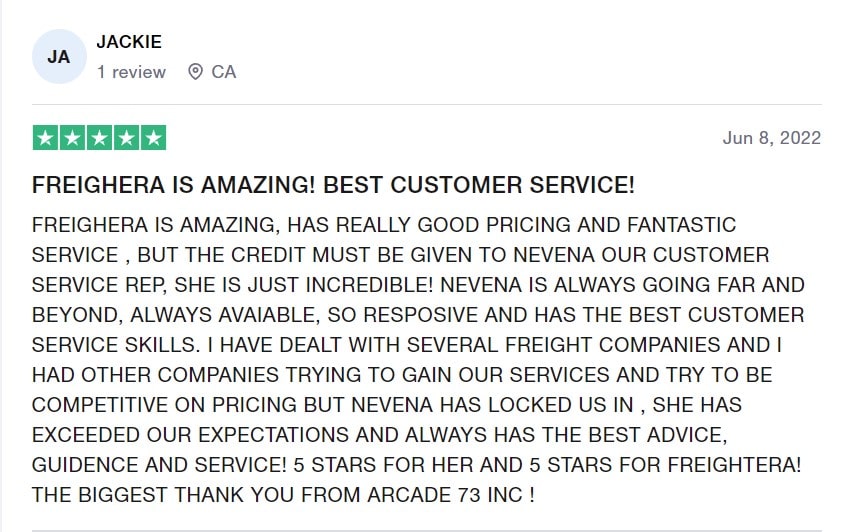 FREIGHTERA IS AMAZING! BEST CUSTOMER SERVICE!
Freightera is amazing, and has really good pricing and fantastic service, but the credit must be given to Nevena our customer service rep, she is just incredible! Nevena is always going far and beyond, always available, so responsive, and has the best customer service skills. I have dealt with several freight companies and I had other companies trying to gain our services and try to be competitive on pricing but Nevena has locked us in, she has exceeded our expectations and always has the best advice, guidance, and service! 5 stars for her and 5 stars for Freightera!
The biggest thank you from Arcade 73 inc!
If you're a shipper with Freightera, please let us know what you think by leaving a review of your own.