Freightera Moves Forward on Go Green Roadmap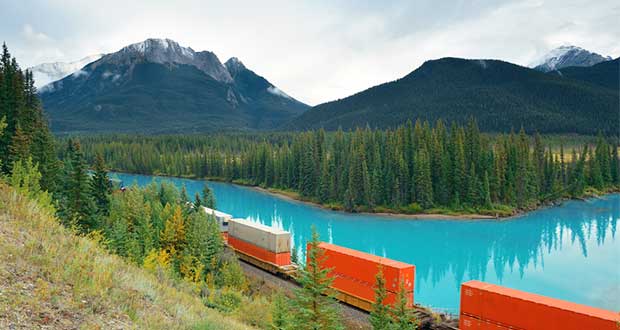 Vancouver startup launches door-to-door FTL-by-rail shipping service from five of the seven largest railroads in the U.S. and Canada, opening easy access to significantly lower long-haul prices and low-emission freight
VANCOUVER, British Columbia, May 15, 2019 /PRNewswire/ — Freightera, North America's freight marketplace offering all-inclusive freight rates from hundreds of carriers of all sizes and transport modes, just launched door-to-door full truckload service from Union Pacific, Canadian National and Canadian Pacific, three of the largest railroads in Canada and the U.S. This coverage combined with existing service from CSX and Norfolk Southern makes Freightera the only freight platform in North America offering comprehensive coverage from the major railroads. Freightera is currently in the process of obtaining live rates from the remaining two Class 1 railroads.
"Intermodal transport by rail is usually the least expensive way to move freight long distances," says Freightera founder and CEO Eric Beckwitt, "but until now, freight shippers were unable to go to one platform and get instant all-inclusive rate quotes from the major railroads. Now they can do that with a click of a button. No phone calls or brokers are necessary. They can also compare rail rates with the leading trucking companies' rates and get a clear sense of available services and optimal cost for each shipment."
Shipping freight by rail offers many important advantages over trucking. In the Freightera platform, a recent sampling of long-haul full truckload rail rates reveals 45 percent cost savings on average over truck rates with guaranteed availability. In Canada, Freightera rail rates are around 40 percent cheaper than long-haul trucking rates.
In 2017, according to the U.S. Bureau of Transportation, $174 billion of freight (16.2 percent of the total) was moved by rail in North America, making it the second-largest freight transportation mode behind trucking. Freightera is unique among the freight digitization startups in its focus on automation and integration of all freight transport modes: road, rail, ocean, and air making seamless automated transfer and movement of freight possible worldwide when the platform is built out.
Rail is the method of choice for the immediate reduction of air pollution and greenhouse gas emissions from freight. Even with diesel-powered trains, shipping by rail reduces CO2 emissions by 60 percent for long-haul freight. New train engines running on renewable natural gas, biodiesel, hybrid electric, and sustainable source electric will offer low- to zero-emission freight transport in the near future.
According to the U.S. Bureau of Transportation, trucks carried 57.7 percent of freight in 2017, followed by rail, 16.2 percent; pipeline, 10.6 percent; vessel, 3.9 percent; and air, 4.7 percent. Both rail and inland waterway (vessel) shipping offer the lowest emission options available at scale for long-haul freight.
"Key to quick emissions reduction is shifting freight from the highest emission to lower emission transport modes. It's what we are working on at Freightera," continues Eric Beckwitt. "Fortunately, it's also a lower-cost shipping solution for our price-conscious customers, small businesses and manufacturers in particular. The cost of shipping cuts directly into their profitability."
About Freightera
Freightera's mission is to reduce stress on people and the planet, making freight easy, accessible, and zero-emission green. Freightera is creating a unified global marketplace for freight shipping. Starting in North America, Freightera is automating freight transportation and increasing operating margins for carriers and businesses shipping freight. Freightera creates partnerships and systems and promotes new technologies that allow businesses to find the best price and lowest emission transportation options. Over 9,900 manufacturers, distributors, wholesalers, and retailers in Canada and the U.S. use Freightera for 24/7 online access to billions of all-inclusive freight rates and instant freight booking.
Click here to read more about Freightera's green mission.
Freightera Media Contact:
Zhenya Beck
Phone: (800) 886-4870
Email: [email protected]