Green New Deal for Freight Transport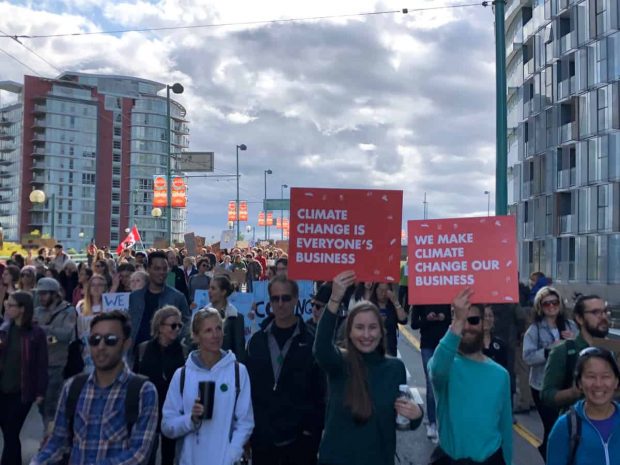 FreightWaves Publishes Freightera CEO Eric Beckwitt's Commentary on a Green New Deal for Freight Transport
On September 27, 2019, Freightera CEO Eric Beckwitt attended the Global Climate Strike in Vancouver, Canada, with a group of his colleagues from prominent British Columbia businesses promoting a clean economy.
It was inspiring and energizing for all of us to walk the streets with what the press estimated was 80,000 people, many families with small children and thousands of students attending with their entire schools. Vancouver schools and many colleges were closed, and you can't argue that the political lesson we all learned on that day was invaluable. It was a hopeful, bright event on a gorgeous sunny day in Vancouver. Vancouver, along with many other cities in North America, demonstrated what huge people power lies behind the climate action and sustainability movement of today.
Beckwitt used this occasion to write a commentary on a Green New Deal for freight transport, to illustrate how a series of "cost-effective practical steps" could transform the "polluting and inefficient" freight industry in North America, all with the technologies that are already existing and rapidly developing.
In the article, published by FreightWaves, Beckwitt cites a new study by LUT University and Energy Watch Group which reveals "that by 2050 the world economy can run on 100% renewable energy with zero CO2 emissions."
Energy cost with 100% percent renewables is projected to be slightly less than in 2015, and employment in the energy sector is projected to increase from approximately 20 million (2015) to 35 million (2050). In North America, the transition to 100% renewal energy is projected to be associated with an increase in employment in the energy sector, from 1.8 million jobs (2015) to a peak of 3.8 million by 2025 and 2.7 million by 2050. Cost of freight transport in this scenario during the transition to 100% renewables will decline by 70%, with cost of trucking falling the most.
To read this comprehensive series of steps to achieving zero-emission freight by 2050, read the full article here.
Read this article on our website if you're curious to find out why Freightera is so involved in greening the freight industry.