Freightera Hero Award 2019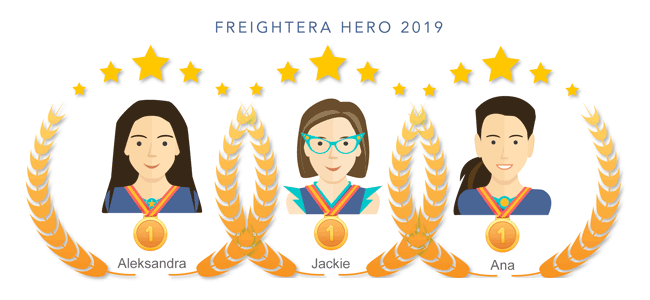 Three Women Share the Freightera Hero Award 2019
In 2017, Freightera has introduced an employee award program, Freightera Hero Award. The concept is simple: at the end of each year, all employees who have been with the company for more than a year are eligible to vote and be voted for by filling in the questionnaire with questions such as:
Who in the company do you feel is super responsive to the team, customers, and business needs?
Who sets the standard of excellence in his/her area?
Who is courageous, voices her/his opinions, and takes on challenging tasks?
Who is the unsung hero, doing important hard work that often stays unacknowledged?
Who is your personal hero, caring, helpful, makes you smile, or you just can't explain it? etc.
The person who gets the most votes for a particular question wins that category, and whoever wins the most categories becomes the Freightera Hero of that year.
This year is remarkable because the Freigthera team has produced not one, but three heroes!
The winners of the 2019 Freightera Hero Award are Ana Vasilijevic, our Logistics Coordinator; Aleksandra Ponarina, our Director of Business Development; and Jackie Locke, our General Manager. We've asked them all to what do they attribute their success, and here's what they shared with us:
"If I haven't been mentored, managed and supported on a daily basis by our amazing team of professionals, I surely wouldn't be as successful at my job. For me, the main formula for success is teamwork." – Ana

"Kaizen! This is the Japanese philosophy of continuous improvement to the product, processes, and efficiency. It requires active engagement and involvement from the entire company. Every day we find opportunity to change for the better together." – Aleksandra

"Personal success takes hard work, dedication and the willingness to accept failure. I set goals for myself and I work until I achieve them. Team success takes collaboration, high morale, and trust in each other. When my teams are focused, happy and achieving results, that is success." – Jackie
All three of our heroines bring something unique to their respective teams and to the company as a whole, but there seems to be a common theme to their answers: working together toward a common goal. Teamwork makes the dream work! ♡