Freightera Customer Reviews – October 2020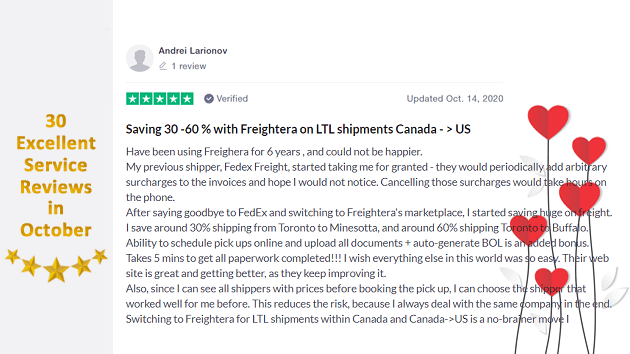 Freightera team celebrated Halloween with a smile and a feeling of accomplishment, knowing that we were able to make our customers happy, and their freight shipping experience smooth and easy! 30 5-star reviews in just one month of October!! Thank you, our dear customers!
We can talk about our rates and service all day and night, but there's no better testament than reviews of satisfied clients, so we'll let them speak for themselves. Here are all the 5-star reviews we have received in October from our customers:
"I started saving on freight"

Have been using Freightera for 6 years, and could not be happier.

My previous shipper, Fedex Freight, started taking me for granted – they would periodically add arbitrary surcharges to the invoices and hope I would not notice. Cancelling those surcharges would take hours on the phone.

After saying goodbye to FedEx and switching to Freightera's marketplace, I started saving huge on freight. I save around 30% shipping from Toronto to Minesotta, and around 60% shipping Toronto to Buffalo.

Ability to schedule pick ups online and upload all documents and auto-generate the BOL is an added bonus.

Takes 5 mins to get all the paperwork completed!!! I wish everything else in this world was so easy. Their website is great and getting better, as they keep improving it.

Also, since I can see all shippers with prices before booking the pick up, I can choose the shipper that worked well for me before. This reduces the risk, because I always deal with the same company in the end.

Switching to Freightera for LTL shipments within Canada and Canada to USA is a no-brainer move. I recommend to all business owners, big and small.
"We are happy Freightera customers!"

We have used Freightera for our manufacturing business 4-5 times and have found it to be a useful tool for identifying market price for carrier shipments. Of course, when using a broker platform like Freightera you need to reply completely on their capabilities and communication to ensure that your goods arrive in a timely fashion. We recently had an issue with a carrier and our account representative at Freightera Julien Levin stepped up to the challenge. Julien took full ownership of the problem and was able to work out a solution for us in record tie. We are happy Freightera customers as a result! Would recommend.
"A reliable and a reputable company you can trust"

This is a very reliable, and reputable company you can trust. They are very efficient, always on top, since I have been with this company I have not experienced any disappointment. To have it all their prices are very good always ready to work with your price. Please you can try them out or I can recommend one person that handles my shipment wo by name M's Caterina V she is the best.
"Freightera makes it easy"

I use Freightera regularly. I don't ship a lot, but I know where to go when I need to secure a rate and time to ship to clients. Freightera really makes it easy to manage the logistica. It's a real bonus for a small company like ours when we don't ship a lot or have a dedicated shipping department but time and efficiency is still a big factor with everything we do.
"Prompt, courteous service"

Prompt courteous service
Able to make adjustments with very short notice
Freight has arrived on time at the price promised
"The BEST rates!"

Great customer service and always provide the BEST rates!
"Best in pricing"

I have dealt with Freightera since they started up and have always found them to be excellent in their service, very fair to best in pricing, and very attentive to shipping and customer details. I have used them for LTL to large oversized multiple trailer loads both in Canada and USA.
"Always prompt and responsive"

Used them several times for commercial and personal shipments. Always prompt and responsive.
"Excellent service and great price"

Freightera has excellent service and great price. They truly look after your best interest and provide great advice.
"Great service!"

Excellent service, cheap, on time!
"Fantastic service"

Great product and fantastic service
"The best rates"

Caterina is amazing. Always gets me the best rates and is so nice and helpful.
"Friendly and helpful"

It's been great working with Freightera. We speak mostly with Simona and she is always friendly and helpful.
"Let Freightera do the hard work"

We've used Freightera for couple US LTL and TL moves, and especially since we are dealing with a dedicated individual, it has been economical and valuable.
"I love this company"

I love this company. The service is 100%. Thank you to the staff for all your hard work each day.
"Fast and reliable"

Really great prices and the shipping service was fast and reliable. Would use again!
"Great rates and fast service"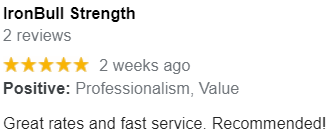 Great rates and fast service! Recommended!
"They went the extra mile"

Had a great experience shipping with Freightera. Their staff were helpful and professional. They went the extra mile to assist me!
"Excellent, and quick rates"

Have used this service twice excellent and quick rates and the staff is great at getting the answers to your questions and to getting the shipment moving.
"I have no desire to look elsewhere for my future shipping needs"

A job very well done. Despite my own ineptitude and inexperience, Freightera staff/customer care representatives handled my shipping requirements swiftly, efficiently and completely. I have no desire whatsoever to look elsewhere for all my future shipping needs. Thank you.
"Every employee is knowledgeable, pleasant and helpful"

Great company and service. Every employee is knowledgeable, pleasant and helpful.

They get it done quickly and efficiently.
"Highly recommend!"

I continually appreciate my experience with Freightera. Ana and the team always take the best of care and I know that my goods are safe door to door. I have been using Freightera for over 2 1/2 years now across 3 different clients – highly recommend!!!
"Freight pick up and delivery are smooth"

Quotes arrive quickly and freight pick up and delivery are smooth.
"Nice, polite, professional"

Freightera associates Dusan Novakovic and Nevena Davidovic were very helpful and did the scheduling efficiently. They are very nice, polite and professional.

Thank you.

Peter Recicar

Creative Concepts
"Went above and beyond"

This was our first time using Freightera to ship a huge item for USA to Canada. I was very unfamiliar with the process but Caterina, with Freightera, went above and beyond to ensure everything went perfectly. Item arrived quickly and in great condition.
"Will definitely use them again"

First time I've used Freightera and everything went really welll. Client received the package and had no issues. Will definitely use them again.
"Excellent customer service"

Trucking company was concerned that packaging of glass was not done properly. Returned the freight to be checked. It delayed delivery but ensured shipment got to destination intact. It showed Freightera cared… and then for good measuee they gave a credit as a token of apology for delay… excellent customer service.
"Simple and easy system!"

Great rates. Simple and easy system!

The pick-up date needed changing after the shipment had been booked – with other systems this would be a nightmare, however was easily changed with a single phone call.
"Always excellent service"

Always excellent service and quick coordination.
"The best deal for us"

Love working with Caterina, very quick to respond and source out the best deal for us.
Want to become one of our happy customers? Sign up for free on and get your free freight shipping quotes in a matter of minutes.