Freightera is a TIA Finalist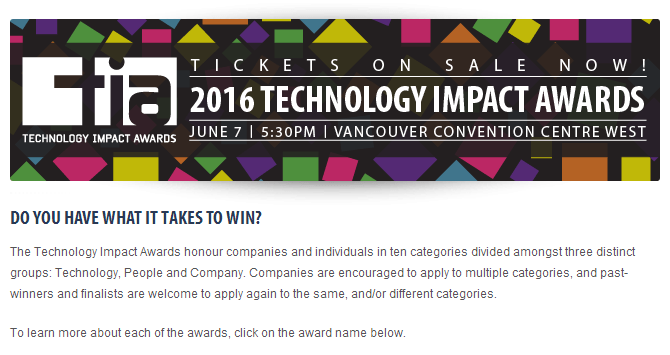 Good news for team Freightera and our customers that appreciate our super-easy-to-use, time and money-saving freight shipping solution! Freightera has been selected among the finalists for the 2016 Technology Impact Award (TIA) in Excellence in Product Innovation. All winners will be announced on June 7th, at the 2016 Technology Impact Awards at the Vancouver Convention Centre.
Founded in 1994 by the BCTIA, the Technology Impact Awards (TIAs) celebrate the successes of the tech industry, its companies, and people in British Columbia. "The BC tech industry has had another incredible year, and the 2016 TIAs finalists are a testament to that fact," said Bill Tam, BCTIA President, and CEO. "Our finalists represent the very best in their categories, exemplifying the leadership that many BC Tech companies have achieved in delivering solutions to customers and partners around the globe. The TIAs celebrate excellence in every respect and demonstrate the incredible people, innovation, and growth that make BC the best place to grow a tech company."
Wish us luck and come to celebrate the winners on June 7th!