Freightera: the 1st Low Emission Freight Marketplace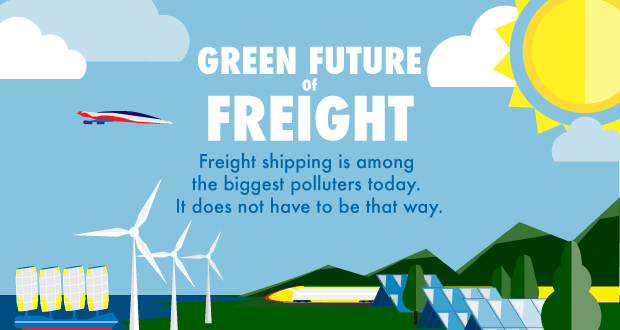 Freightera to Build North America's First Low Emission Freight Marketplace, Partners with SmartWay to Showcase Certified Carriers
Freightera Logistics Inc. has partnered with Natural Resources Canada's SmartWay program in an initiative to reduce fuel costs and emissions from freight transportation. Freightera's Go Green option now allows shippers to choose freight quotes by lower emission, in addition to price and shipping time.
VANCOUVER, BC (PRWEB) MAY 04, 2017
Freightera Logistics' award-winning online freight marketplace has partnered with Natural Resources Canada's SmartWay program, to help create the North American Low Emission Freight Marketplace.
Worldwide, about 9% of greenhouse gas emissions come from freight transport, noted Eric Beckwitt, Founder and CEO of Freightera, "If we don't change anything, freight emissions are predicted to grow to 20-50% of all emissions by 2050. Industry and governments need workable solutions that can be implemented right now."
Freightera's Go Green mission is both visionary and pragmatic, focused on promoting innovation in green freight and implementing already available solutions for emissions reductions from freight. Using existing fleets and technologies, Freightera found its niche in redirecting demand to cost-efficient and low emission carriers, including rail, as well as promoting and stimulating demand for the zero-emission transport systems of the future.
Eric Beckwitt recently returned from COP22, the UN Climate Conference in Marrakech, where he presented "A Green Future for Freight" a continuation of Freightera's thought leadership on the issue earlier featured at the 2016 G7 Summit in Climate Change: The New Economy.
SmartWay carriers already outperform their non-certified counterparts in the Freightera marketplace. Although only 31% of Freightera carriers are SmartWay certified, these carriers book 78% of the loads. Combined with rail, 84% of the bookings in the Freightera system are already lower emissions.
"I am encouraged to see this new partnership between Natural Resources Canada's SmartWay program and Freightera which will help freight shippers to lower their emissions and also help Canada meet its climate change goals," said the Honorable Jim Carr, Canada's Minister of Natural Resources.
"With the new SmartWay partnership, shippers can sort freight quotes in the Freightera marketplace and select carriers that are conscious of the environmental impact. Shippers have the option to consider cost and emissions when choosing a carrier and they will see how Go Green is often not just the most efficient, but also the least expensive way. It's a win-win," said Mr. Beckwitt.
The award-winning Freightera platform is used by more than 10,000 warehouses, manufacturers, importers, and other businesses shipping freight in North America, with several hundred new shippers and carriers signing up every month.
About SmartWay
The SmartWay Transport Partnership helps businesses reduce fuel costs while transporting goods in the cleanest most efficient way possible. Originally launched by the US EPA in 2004, it has been administered in Canada by Natural Resources Canada since 2012. For more information contact Natural Resources Canada's SmartWay program at +1-855-862-1809.
About Freightera
Freightera is an award-winning online freight marketplace automating freight shipping and increasing operating margins for carriers and B2B freight shippers. Freightera creates partnerships and systems and promotes new technologies that allow businesses to find the best price and lowest emission transportation options. Over 3,000 manufacturers, distributors, and wholesalers in the US and Canada use Freightera for 24/7 online access to billions of all-inclusive freight rates and instant freight booking.