Toronto LiveJournal: Prices from Freightera vs Fedex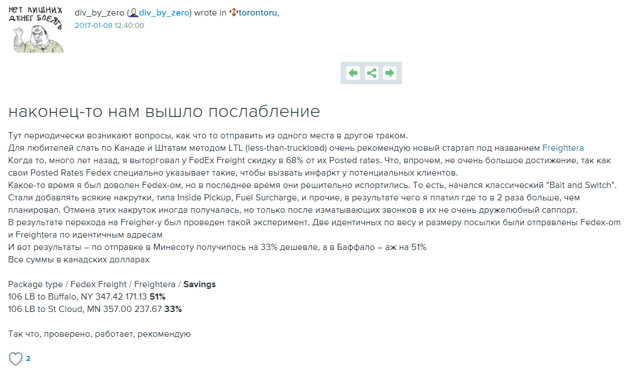 We found out that "div_by_zero" compared our prices with FedEx Freight, so we thought we'd share it with you. Thanks so much "div_by_zero"! Whoever you are, please reach out! We'd like to thank you personally 🙂
Translation from Russian to English from http://torontoru.livejournal.com/1679670.html
Finally, we've got a break! (FedEx vs
Freightera
customer's comparison)
From time to time we are asked the question of how to ship from one location to another by truck.
To those that love LTL for shipping in Canada and the US, I highly recommend a new startup named Freightera.
A long time ago, I negotiated with FedEx a 68% discount from their posted rates. That isn't a huge achievement, since Fedex's posted rates that they show are high to give potential clients a heart attack. For some time, I was happy with FedEx, but the relationship got completely spoiled lately. It went classic "bait and switch". They started adding all kinds of additional charges, like Inside Pickup, Fuel Surcharge, etc. and as result, I paid about twice more than planned.
I could occasionally reduce the extra charges, but only after exhausting calls to their not very friendly support.
After switching to Freightera we ran this experiment. Two identical in weight and size packages were sent by FedEx and Freightera to identical addresses. And here are the results:
Shipment to Minnesota was 33% cheaper and to Buffalo – amazing 51%! All in Canadian dollars.
Package type / FedEx Freight / Freightera / Savings
106 lb to Buffalo, NY $347.42 / $171.13  / 51%
106 lb to St Cloud, MN $357.00 / $237.67  / 33%
So, it works, tested, recommended
by div_by_zero, 2017-01-08 
It is important to note that we are currently partnered with FedEx Freight as one of our carriers and that they do, in fact, provide the best service and pricing for certain shipping lanes. However, we do hold our client care service in such high regard that we're sure they are the best support team in the freight industry. This is one of the reasons Freightera marketplace is one of the best freight shipping solutions in Canada and the USA.