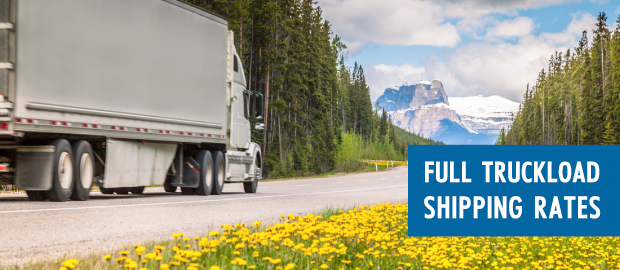 All-Inclusive Full Truckload Rates Ready for Online Booking on Freightera.com
We are constantly working on updating our system with new rates, lanes and carriers, so we could serve our customers better. For examples of such rates, find below some of the super-competitive FTL freight ones our customers have recently searched for!
New to shipping FTL?
To learn more about FTL vs. LTL freight shipping, click here or give us a call at 1800 886 4870 ext. 1. You can also email us at clientcare@freightera.com with your quoting information. Let us know what you're shipping, where from and to, what the total weight of the shipment is, and when you're looking to ship, and we'll get you a quote in no time!
You can also get a quote online. It's quick and easy, and if you get stuck – you know where to find us 🙂
US Domestic Rate Examples
From

Salt Lake City, UT 84104 to

Burley, ID 83318 – $742.40 USD
From Trenton, NJ 08691 to South Farmingdale, NY 11735 – $729.66 USD
From Freetown, MA 02717 to Albany, NY 12210 – $706.82 USD
From Dalton, GA 30720 to Calhoun, GA 30701 – $587.87 USD
From Dunwoody, GA 30350 to Marietta, GA 30064 – $518.83 USD
From Elk Grove Village, IL 60007 to Indianapolis, IN 46241 – $690.33 USD
From Elk Grove Village, IL 60007 to St. Louis, MO 63116 – $681.48 USD
From Keasbey, NJ 08832 to Elkridge, MD 21075 – $677.77 USD
From Keasbey, NJ 08832 to Middletown, CT 06457 – $706.28 USD
From Elk Grove Village, IL 60007 to Cudahy, WI 53110 – $497.67 USD
From Dallas, TX 75201 to Austin, TX 78701 – $707.90 USD
From Bear Creek Village, PA 18702 to Tonawanda, NY 14150 – $789.61 USD
From Middletown, PA 17057 to Monroe Township, NJ 08831 – $677.94 USD
From Bolingbrook, IL 60440 to Hebron, KY 41048 – $928.44 USD
From Athens, GA 30606 to Atlanta, GA 30308 – $543.60 USD
From Chicago, IL 60604 to Milwaukee, WI 53202 – $529.40 USD
From Chicago, IL 60604 to Minneapolis, MN 55415 – $837.46 USD
From Streetsboro, OH 44241 to Addison, IL 60101 – $838.12 USD
From Hayward, CA 94545 to Rancho Cucamonga, CA 91730 – $805.71 USD
Ready to book our instant online freight shipping rates?
Register here. Quotes are all online, easy, affordable and all-inclusive. Book online to save time & money now!
Questions? Call our Client Care team to set up a consultation today: 800 886 4870 Ext. 1, write to us at clientcare@freightera.com, or visit our Help Center!
Not so sure? Read what our customers say about our rates and service.