Google money moves into digitization of freight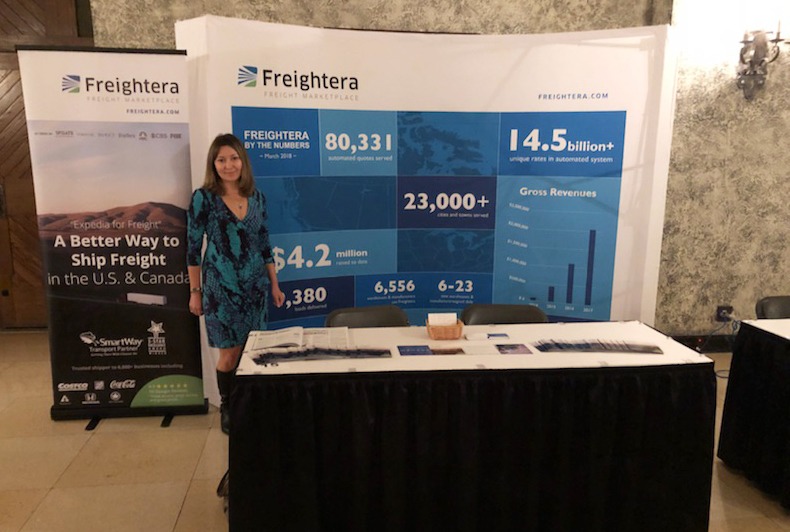 If you've been following the news on freight automation/digitization, freight marketplaces, the acquisition of Globaltranz, Uber Freight's ups and downs and such, you would have not missed the news last Friday of CapitalG (the late stage investment arm of Alphabet, Google's parent company) entering the space and backing Seattle-based Convoy. As one of the players in the middle of the digital battlefield, we were honestly shocked.
What does that mean for us?
Good news is that we've got another big confirmation that freight digitization is a huge opportunity, and Google money backing one of our competitors shows that the giant money sees a way to make an even bigger fortune in the future.
Bad news is that they've missed us. Gee… No kidding…
What else does it mean? A few more things. Naysayers that were calling online freight platforms just another fad were wrong. Those that were doubting monetization opportunities in freight marketplaces were wrong. Freight digitization is here to stay and it's entering a higher stake phase.
Our prediction is that Google's move threatens many very established players in the freight transportation industry, logistics companies, and brokerages, and they will be feeling increased pressure to catch up with the freight digitization trend which, at the end of the day, is beneficial to freight shippers who struggle daily, stressing about overpaying for their freight, worrying about where it is or is it safe, etc. Hopefully, this will also benefit trucking companies and truckers, people that move freight.
Unlike our competitors that set the price for freight services with truckers, take it or leave it, or reverse auction models, we work with the pricing that trucking companies provide us. LTL (less than truckload) is our sweet spot. Quite challenging and relativity low transaction markup, it's also the bread and butter of our customers, manufacturers regularly shipping pallets and skids to their customers. Our shippers say they save 50% over other companies by booking with us. They can choose by price, service quality or estimated delivery time. For most of our customers, pricing is the biggest factor, it's the difference between making a profit or not, staying alive or going out of business. That's why we have a mission worth living for. People need it.
There is one more option that is unique to Freightera – "Go Green" – it allows shippers to pick the lowest emission options. We believe it is time to make freight low emission and more and more shippers will be moving to greening their supply chains in the near future. In fact, 80% of our bookings are already lower emission.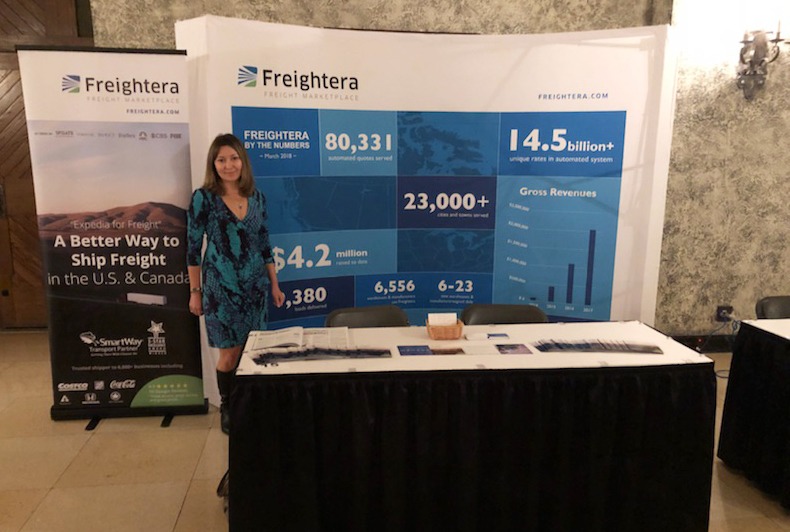 Hi, I am Zhenya Beck, co-founder of Freightera, the leading online freight marketplace in Canada making freight easy, accessible, and green. In the photo, you can see me standing in front of the Freightera banner that gets clicks every time we share it. It shows our traction in the marketplace. A small but enthusiastic team, we've signed over 700 carriers, 8,000 business shippers, and have 1,500 paying accounts. Industry experts tell us that our 20 billion LTL lane online inventory is the largest in the US and Canada. There is still lots to learn and improve for us in our own business and in this industry fraught with inefficiencies, systemic problems, and honest errors, but we sincerely give our best efforts to it. We strive to be a company that understands and listens to customers better than others, and so far, judging by our 100+ largely 5-star online reviews, we've got the people's choice award among all other freight digitization players.
While writing this blog, I've been corresponding with one of my teammates in Ottawa, where a tornado flattened several houses on Friday. He was lucky to be safe at home with no electricity. The world is changing. The world of freight is changing. There is an opportunity to change it in a helpful way. Google, you're welcome.
****
Zhenya Beck is a Co-founder of Freightera.com, the Expedia-like online shipping marketplace, transforming the ways and culture of the freight transportation industry. 
This article first appeared on Zhenya's LinkedIn.
Visit Freightera's website for more information about their freight shipping marketplace and the trucking companies they're working with.