8 Green Freight Trends to Watch in 2017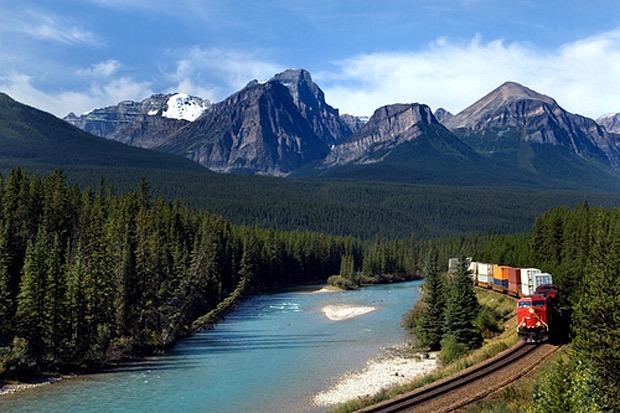 1. Demand for greener supply chains will be driven by the largest firms
Demand for greener freight transport is coming primarily from the largest companies. It's coming from the Walmarts and Whole Foods of the world, and the very large logistics companies. Once these services are set up, and capacity is established, they will be made available to smaller firms.
2. Lowest cost freight transport will increasingly be lower emissions as well
Freight shippers increasingly realize that you can have both highly efficient low-cost service and low emissions at the same time. Lower cost, highly efficient transport companies will continue to outperform in 2017. As this trend continues there will be less room in the market for highly expensive, inefficient, highly polluting transport companies.
3. Demand will increase for short, highly efficient supply chains and purchasing localization
Long-distance shipping is generally energy-intensive and wasteful. In 2017 highly efficient firms will continue to source as locally as possible. Local sourcing can reduce energy use, air pollution, and greenhouse gasses, while also maintaining diverse local and regional economies. Long supply chains, and the simultaneous import and export of the same commodity by a nation or region, should become increasingly uncompetitive once production and energy subsidies are removed.
4. Long haul overland freight will increasingly move by rail for lower rates and emissions
Intermodal rail service (pickup by truck, long haul by rail, delivery by truck) generally costs less than truck service (up to 60% less) and offers emission reduction of 66%+. Whenever shippers have this service as an option and can afford the slower delivery times associated with rail, they will increasingly use it. This trend will accelerate in 2017.
5. Demand for lower and zero-emission local freight delivery will be driven by air quality concerns, but reduce greenhouse gas emissions as well
Air pollution in urban areas, especially nitrous oxides and particulates, is a leading cause of illness and hospitalization. Port cities are particularly impacted by transport-related air pollution. As ports, cities, and short-haul carriers convert to lower emission natural gas and zero-emission electric trucks, air quality improves dramatically. Important and long-lived greenhouse gasses, including nitrous oxides, black carbon (from diesel engines), and CO2 emissions are also dramatically reduced with this new technology, as a secondary benefit.
6. Demand will grow for low and zero-emission ocean shipping
Several of the largest global maritime shipping and logistics companies are now offering lower emission ocean shipping. Emission reductions are achieved through a combination of slower steaming and operational measures (which can reduce CO2 emissions by 30% or more) and global use of low sulfur fuels and scrubber technology (which can reduce nitrous and sulfur oxide emissions by 85%+).  Some firms, such as Nissan, are already using hybrid solar/diesel-powered ships to transport vehicles across the Pacific. Unless these and other lower and zero-emission technologies are quickly adopted through the industry, pollution from ships will continue to cause the death of an estimated 60,000 people per year, and global freight transport alone could grow to 30-50% of all greenhouse gas emissions by 2050. As freight shippers and consumers become aware of the climate risk and air pollution impacts of ocean shipping, demand for lower and zero-emission shipping will grow rapidly.
7. Hydrogen hybrid zero-emission trucks will increasingly be used for zero-emission long haul freight
Hydrogen is quickly emerging as the energy source of choice for zero-emission long-haul road freight. Multiple companies are now producing hydrogen-fueled hybrid electric trucks, and some companies are including the fuel and construction of the fueling networks in the purchase price of the truck fleets. Zero-emission hydrogen production is now planned as a byproduct of excessive peak period electricity generation by rapidly growing solar and wind power installations. Hydrogen is generated instead of "dumping" this extra electricity. Hydrogen solves the energy density and capacity problem that has previously prevented battery-powered zero-emission long-haul freight trucks. In 2017 many transportation companies will order these new zero-emission vehicles as quickly as they can be produced, and the hydrogen refueling station network will expand. See for example the existing California network here.
8. Low and zero-emission airships may begin to disrupt air freight
Solar/diesel hybrid and 100% solar electric airships are already moving air freight. Multiple companies are now producing these new vehicles which have the potential to profoundly disrupt conventional air freight, offering much higher payloads, service to remote regions without roads or airports, and low and zero-emission intercontinental freight transport at much higher speeds than ocean shipping.
In 2017 you will see more firms using this new technology for freight transport to remote regions.
Eric Beckwitt is founder and CEO of Freightera. In 2017 Freightera is opening North America's first Low Emission Freight Transport Marketplace in cooperation with the US EPA/Environment Canada SmartWay Program. Freightera also wrote "A Green Future of Freight" for the 2016 G7 Summit in Japan, and has been featured at the COP22 UN Climate Change Conference, and in Fortune, Forbes, the Silicon Valley News, and over 180 other publications.
 Learn more about our green freight initiatives.