How to Ship Cross-Border Seamlessly

Ship Across the USA-Canada Border Stress-Free by Following These 7 Simple Steps
If you're looking to ship some cargo from the USA to Canada or vice versa, you'll want to make sure everything goes smoothly. Shipping within a country already requires a considerable amount of attention. Cross-border transportation just raises that bar by about 20%.
Here's what you can do to ensure you don't run into any trouble.
1. Pick a freight carrier with reliable shipping partners
You may already know that some freight carriers partner up with other carriers in order to cover more ground. If a carrier cannot transport a shipment to a faraway city, they may hand it over to their partner for final delivery. 
This is particularly true when it comes to cross-border shipments. Carriers often (but not always) operate within a single country, which means that in order to get your cargo across the border, they'll need to pass it on to a different party.
That's why it's important to check if the carrier will be making a delivery personally or through a partner when shipping cross-border. If they are using a partner, our staff of shipping professionals will let you know about their experiences with the carrier of your choice. You want to be sure (and with our advice, you will be) that the partner carrier is of the same quality caliber as the one you originally chose.
2. Package and mark your cargo properly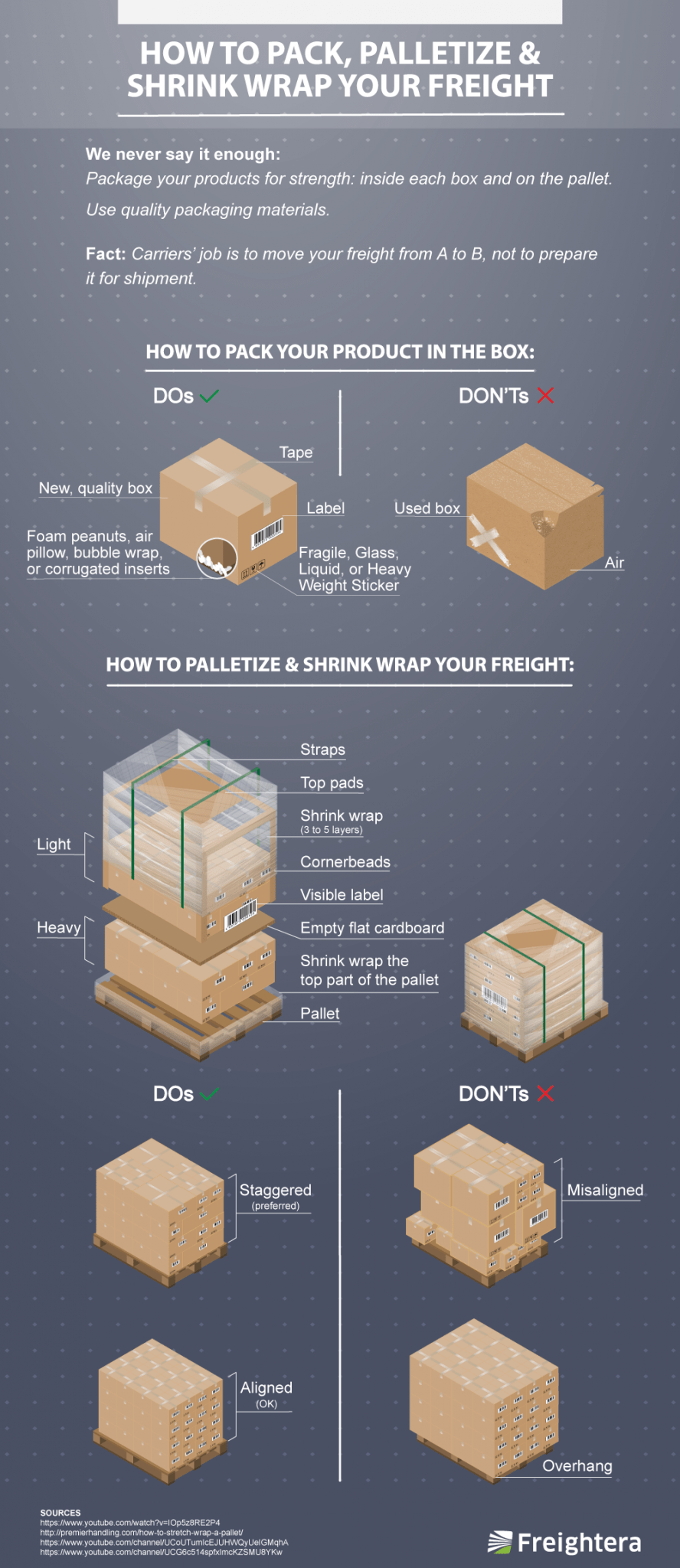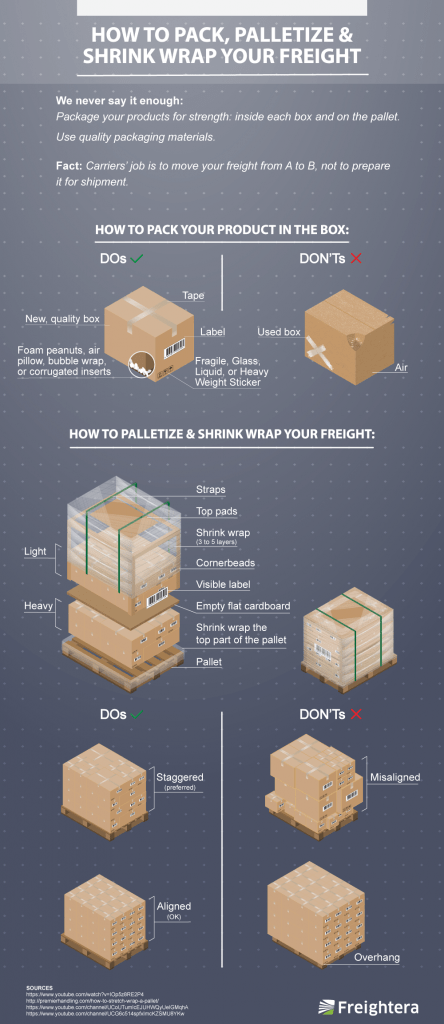 As always, you'll want to make sure that your cargo is safely and securely packaged and strapped to the pallet. In addition to that, you'll want to be sure that your shipping labels are attached to each individual package you're shipping.
You want to pay extra attention to this when shipping cross-border as you want your cargo to be as easily accessible and recognizable as possible by customs officials. The more effort that goes into determining what your cargo is, the higher the chances of delays and extra charges.
If you're having trouble with any of what we mentioned above, don't hesitate to contact us. Our Client Care team will be happy to let you know if your cargo is safe to ship and whether the paperwork is clear and visible enough.
3. Make sure your customs invoice is adequately filled out
All documents are important if you're shipping freight (or doing almost anything else). But, since we're talking about cross-border shipping, the one key document you want to pay attention to is your customs or commercial invoice.
This document is, more or less, your shipment's passport. Without it, your cargo is stuck in place.
This document has to contain the following information:
The shipper's company name and address

The consignee's company name and address

The country of origin (of the goods themselves, not of the shipping location)

The list of shipped items

The value per item shipped as well as the total value of the shipment
If you make sure your document has all of the above information on it, and that it gets handed to the driver (and uploaded to the Freightera portal in case the driver misplaces the physical copy) at the time of pickup, you'll make your pallets all that happier. 
When you use Freightera, you have the option of downloading a blank customs invoice directly from our website so as to save yourself the trouble of looking for one elsewhere. We strive to be a one-stop shop for our clients.
4. Make sure to have a packing list handy
A packing list is another document that's not always necessary for shipments crossing the border, but when it's needed, it's best to have it on hand. Here's why:
When customs officials wish to inspect cargo on a truck, instead of going through each individual shipment, they inspect it based on packing lists. 
The reason is that a properly filled out packing list contains all of the relevant information about your shipment, such as the dimensions, weight, packing type, relevant markings per item, as well as density per item. It's a great help when you know how and why it's used.
Not relevant to the topic at hand, but a handy piece of information nonetheless is that a packing list can also be used if either party (shipper or consignee) needs to request a letter of credit from a bank.
5. Find a good customs broker
Finding a good customs broker (such as Carson) is a major part of shipping cross-border. In our experience, most of the delays with shipments moving between countries are caused by clearance delays. 
These delays, in turn, tend to be caused by a lack of paperwork or in some cases by brokers claiming that the shipper is not their client. That's why you want to make sure that you've registered for an account with your broker and provided them with the power of attorney (POA). 
If you're using Freightera, you'll have access to an automated system that shows you the estimated fees and contacts our partner broker immediately, and automatically. There's no additional work or searching for you. The broker will contact you regarding anything else they may need.
6. Track your shipment regularly and check in with your broker on time
After all that, your broker should give you all of the information you need to know. If they need anything else from you, they will let you know. Regardless of that, you'll want to follow up with them shortly before your shipment reaches the border to make sure everything is going according to plan.
As we mentioned earlier, delays do happen. Often, those delays are caused by the lack of communication between the shipper and their broker. Customs delays are not fun. Carriers that have an entire truck's worth of cargo to move will not hesitate to charge you if a delay is caused by your specific shipment. After all, there are many other people that need their cargo delayed in a timely manner.
That's why you want to do yourself a favor and make sure that everything is done on your end. The less someone has to ask of you at the time the shipment crosses the border, the better.
That's what Freightera is for. The carrier will reach out to us with any questions they may have about your shipment so you don't have to worry about such things. As long as all of the documentation is filled out correctly, you won't have to talk to anybody else until your shipment is delivered. 
7. Enjoy good coverage
This last step ties in with the first. We've gone full circle. 
Not every carrier can handle all of your cargo with competitive pricing, punctuality, and reliability. That's why you want to know what your options are and get as wide of an array of carriers as possible.
That's why we strongly recommend using Freightera or similar platforms that offer you access to many carriers. That means that you will always have competitive pricing and multiple options to choose from depending on your needs. There is no need to go around hunting for carriers or brokers and getting multiple quotes from multiple places and keeping it all in your head or on your desktop. Nobody likes a messy desktop.
Instead of wasting time, we recommend that you get your cross-border shipping quote right now, quickly and easily. And as we mentioned earlier, we have a whole team of experts behind the scenes to help you easily make the best decisions.
Our motto isn't "Ship Green, Stress Less" for nothing. See for yourself!