Freight Shipping: A Beginner's Guide

[Updated June 2022]
Freight shipping is, in short, shipping in large quantities, and in this article, we will help you figure out the best shipping solution for your needs.
We will cover the basics of freight shipping:
What is freight?

What are the different modes of freight transportation?

How are shipping costs calculated?

How to choose the right shipping type (LTL vs. FTL)?

How to package your shipment?

What documents do you need for freight shipping?
The primary focus of this article will be ground shipping, as opposed to air and ocean shipping.
What is freight?
Any shipment weighing over 150 lbs is considered freight. Depending on the dimensions, lighter shipments are sometimes shipped as freight as well.
For example, if you're looking to ship a cabinet with the dimensions of 48" x 20" x 96" (length, width, height), that shipment does not classify as a parcel simply due to its dimensions, regardless of weight. This isn't a strict rule, but as a rule of thumb, shipments larger than 30" x 30" x 30" are considered freight as well.
Shipping a laptop? Easy, this is considered a parcel shipment. Shipping tens or hundreds of laptops? Sending them as freight would be the cheaper and simpler option.
What are the different modes of freight transportation?
Freight is shipped via truck, train, airplane, ship, or as a combination of several of these options (intermodal).
Air shipping is the fastest and most expensive option when it comes to shipping freight. As the name suggests, you would be shipping freight by airplane. 
Ocean shipping (which is where the phrase "to ship" something comes from) is done via ship. Generally, shipments are placed in 40' containers and transported in large quantities. Ocean shipping is mostly used for cross-continental shipments.
Ground shipping is the most common shipping method and involves only shipping via road or rail. 
How are shipping costs calculated?
When it comes to freight quotes, there are several factors that impact shipping costs:
Shipping a few pallets as a less-than-truckload (LTL) shipment is a cheaper option than shipping them via a dedicated truck, or full truckload (FTL). And a shipment moving via rail is also less expensive than one moving by road or air.
A shipment moving within the same province or state would likely cost less than shipping cross-country or cross-border.
A standard shipment with the dimensions of 48″ x 48″ x 48″, weighing 400 lbs would likely cost less to move than the same cargo weighing 2000 lbs.
In an ideal scenario, you would be shipping business to business (B2B), dock to dock. That means that both the pickup and delivery locations are businesses in commercial areas and that they both have docks or forklifts on-site as ways to load and offload the freight. Anything outside of that falls under special services.
For example, if your business is in a residential area, the carriers might consider your location as residential. Carriers charge extra for residential areas, limited access locations, tailgate/liftgate services, as well as for other special services. 
Freight class (the USA only)
Freight classification is a number assigned to LTL shipments going within the US, or cross-border. Class is based on weight, size, density, handling, fragility, value, and assumed risk/liability for hauling. The more difficult/fragile a shipment is to handle, the higher its class is.
How to choose the right shipping type (LTL vs. FTL)?
Depending on the amount of freight you're shipping, your options would be less than truckload (LTL) or full truckload (FTL). 
Less than truckload (LTL)
For example, if you're shipping just a few pallets your shipment is considered (standard) LTL.
LTL also includes partial truckload shipments which means your freight would fill up more than half a truck, but not a whole one. These larger LTL shipments are also known as volume shipments.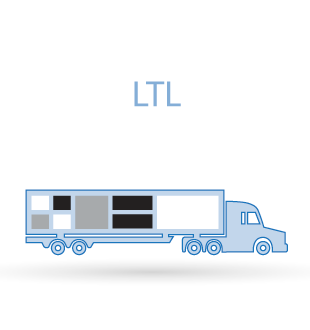 LTL is the most cost-effective option when shipping smaller amounts of freight. Instead of having to pay for a whole truck, you would be sharing the price of one with other shippers.
LTL shipping is kind of like riding a bus. It's cheap, but you have other passengers on board with you and the bus needs to stop along the way to let people get on or off.
There are three more important things to remember when it comes to LTL shipping: 
Another shipment might be placed on top of yours. If you do not specify that your freight is non-stackable, your shipment needs to be able to withstand the weight of another one on top of it.

LTL is not the best option for time-critical shipments, because the truck contains shipments going to multiple locations and must make stops along the way. The pickup and delivery dates are not guaranteed for LTL shipments.

Your shipment needs to be properly packaged. In most cases that means you should have it strapped to a pallet.
Full truckload (FTL)
FTL is the best option when handling high-value, high-quantity, and time-sensitive shipments. 
For example, if you ship 1 pallet via LTL, the trailer it is on will have to stop at multiple terminals along the way in order to unload all of the shipments that will be delivered from that terminal.
FTL shipments do not face such delays because they go straight from point A to point B. Their transit times are mostly limited by the distance a truck can move per day.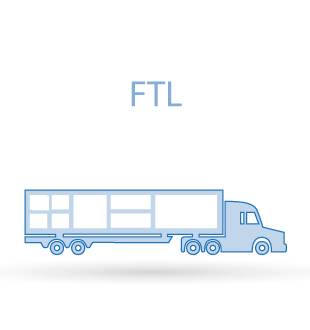 Unlike LTL, you can think of FTL as renting a car. You have the car all to yourself, and you can go wherever you want without stops, but it's not the cheapest option.
Both shipping options have their pros and cons. By the end of this article, you should have a clearer idea of what your actual shipping needs are and how to get the most accurate rate quote. 
How to package your shipment?
Before shipping anything, you need to make sure that your shipment is properly packaged. This makes both your and the carriers' lives easier. If your shipment is not properly packaged, your shipment is at higher risk of being damaged and the driver may simply refuse to pick it up due to the potential risk it poses to other shipments.
The most common ways to protect your shipment are to palletize or crate it. Shipping on a pallet is the more common of the two. Crating your shipment is the safest way to go. In fact, if you're looking to ship something fragile such as art, for example – you will need to have it crated in order to have it shipped. However, for most standard shipments a pallet offers more than enough protection and it is the less expensive option. 
Note that in order for a pallet to be considered properly packaged, nothing can be protruding from the side of the pallet. 
For an example of a properly packaged pallet, please see the image below.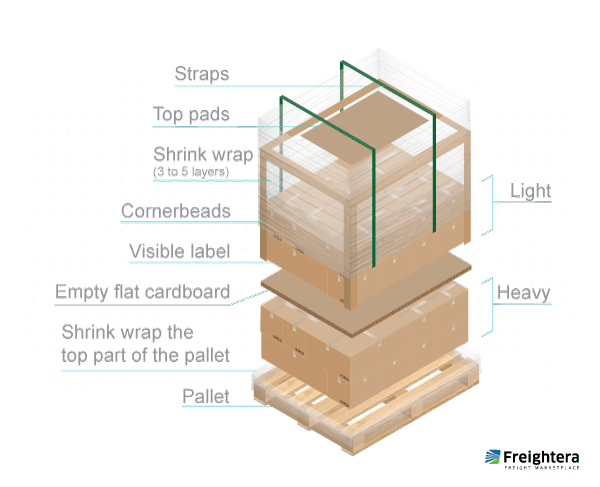 As mentioned earlier, another shipment might be placed on top of yours in order to save truck space during shipping. Keeping this in mind while packaging your shipment will help you minimize the risk of any potential damage.
What documents do you need for freight shipping?
Lastly, shipping documents include the bill of lading (BOL), shipping labels, and the customs invoice (for cross-border shipments only).
Bill of lading (BOL)
Think of your BOL as your shipment's personal ID card. It has all of the information about your shipment. The carrier will use this document to figure out how to handle your shipment and where to deliver it to. 
Every BOL must contain the following information:
The shipper's and consignee's contact information and address

The shipper's and consignee's hours of operations

The preferred pickup and delivery dates

The shipment information (commodity, weight & dimensions per pallet)

Any potential special instructions
At Freightera, we generate a filled-out BOL for you automatically at the time of booking.
Example of BOL: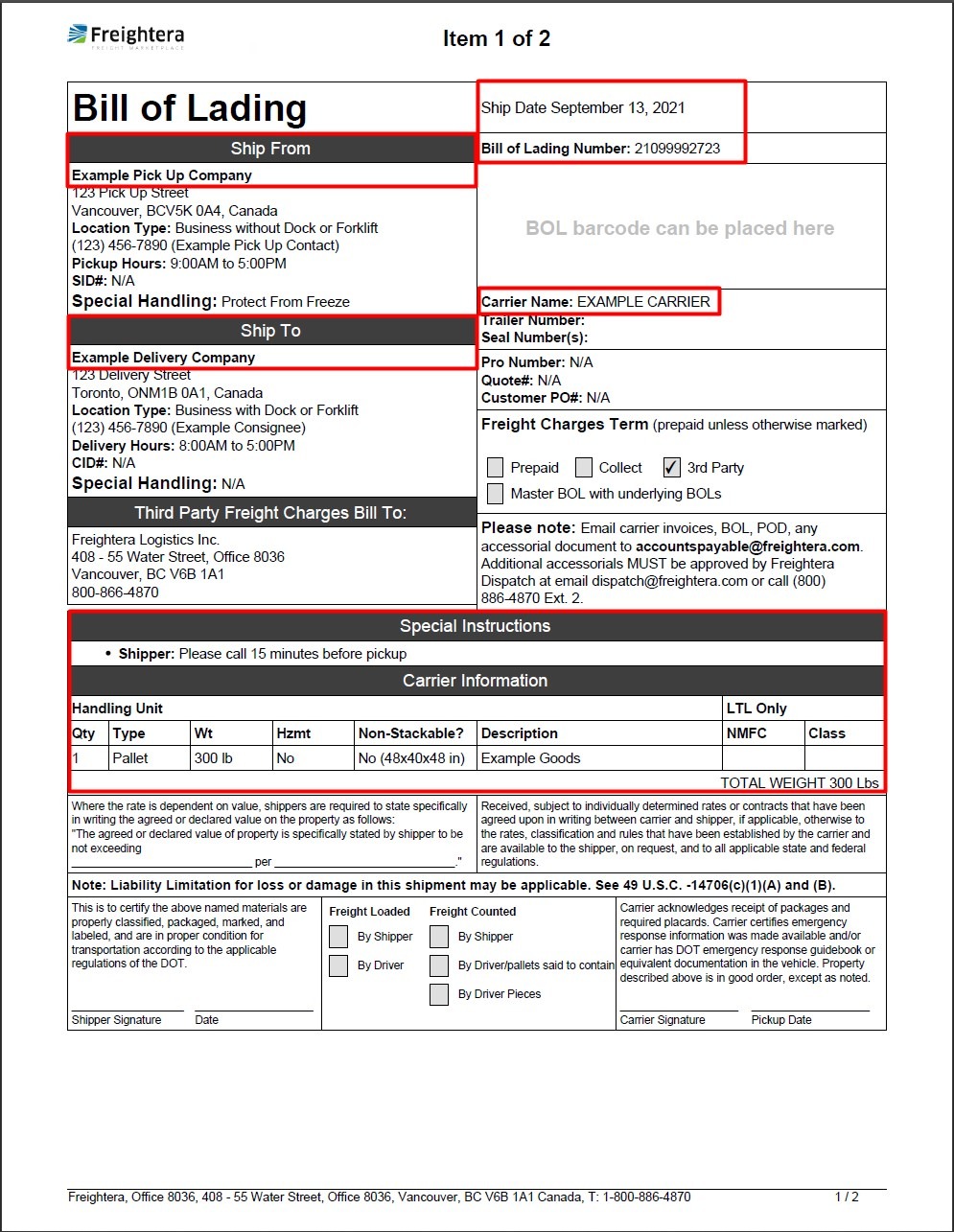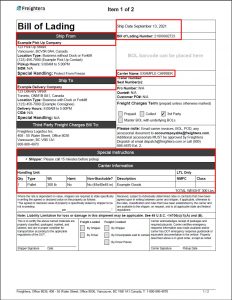 Shipping labels
The shipping labels are your BOL's younger sibling. They contain elementary information about your shipment and generally serve as a means of confirming which pallets belong to which BOL. The labels need to be placed on each of your pallets so that the carrier can accurately track your shipment.
Example of a shipping label: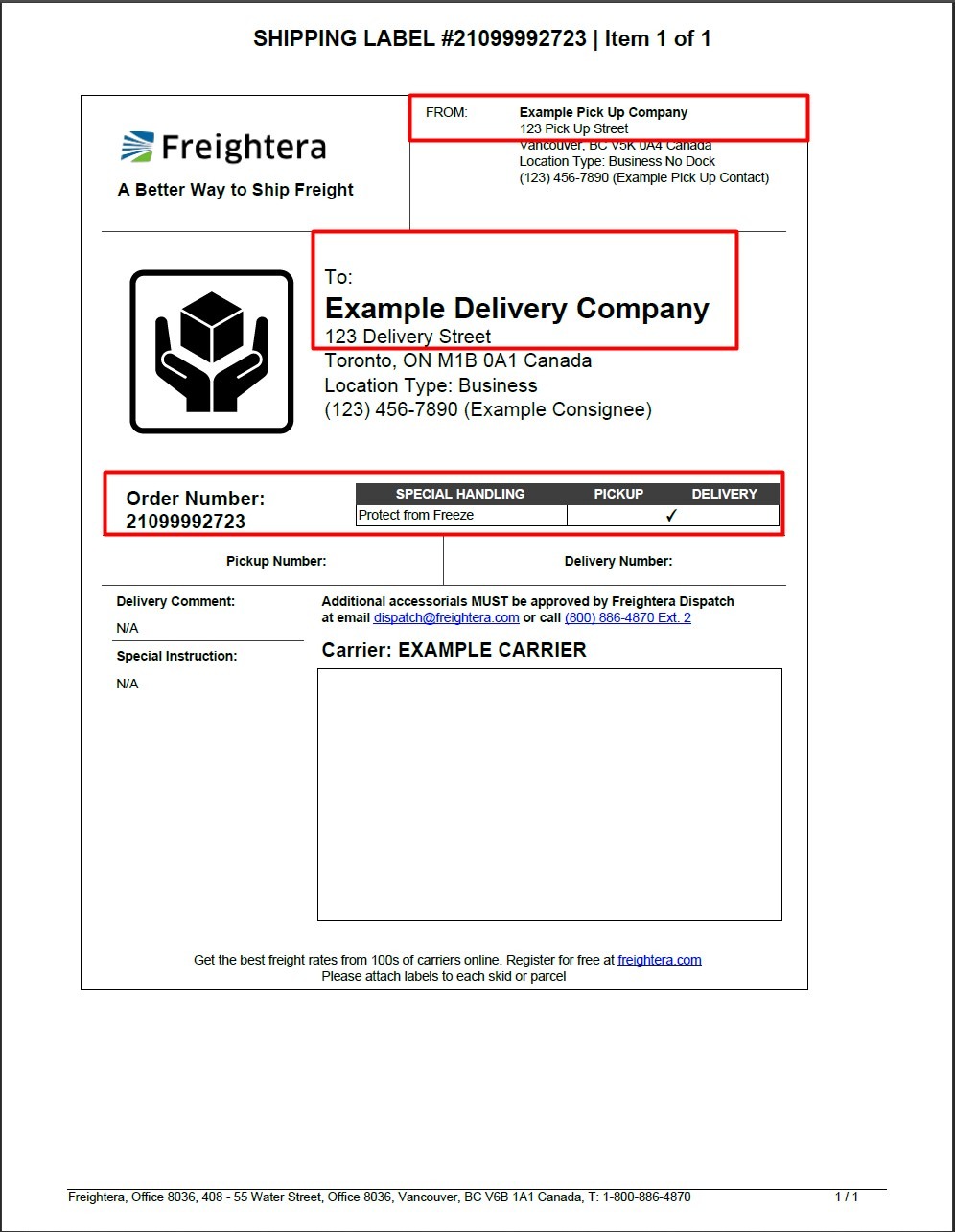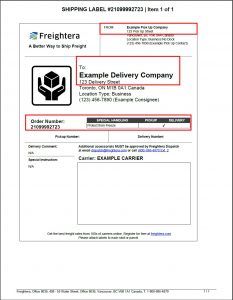 Customs invoice
You can think of your customs invoice as your shipment's passport. If a shipment needs to cross the border, it won't be able to do so without its customs invoice.
The customs invoice needs to contain the following information:
The country of origin

The shipper's and consignee's information (company name and the full address)

The list of items shipped

The value per item shipped and the total value
Example of a blank customs invoice: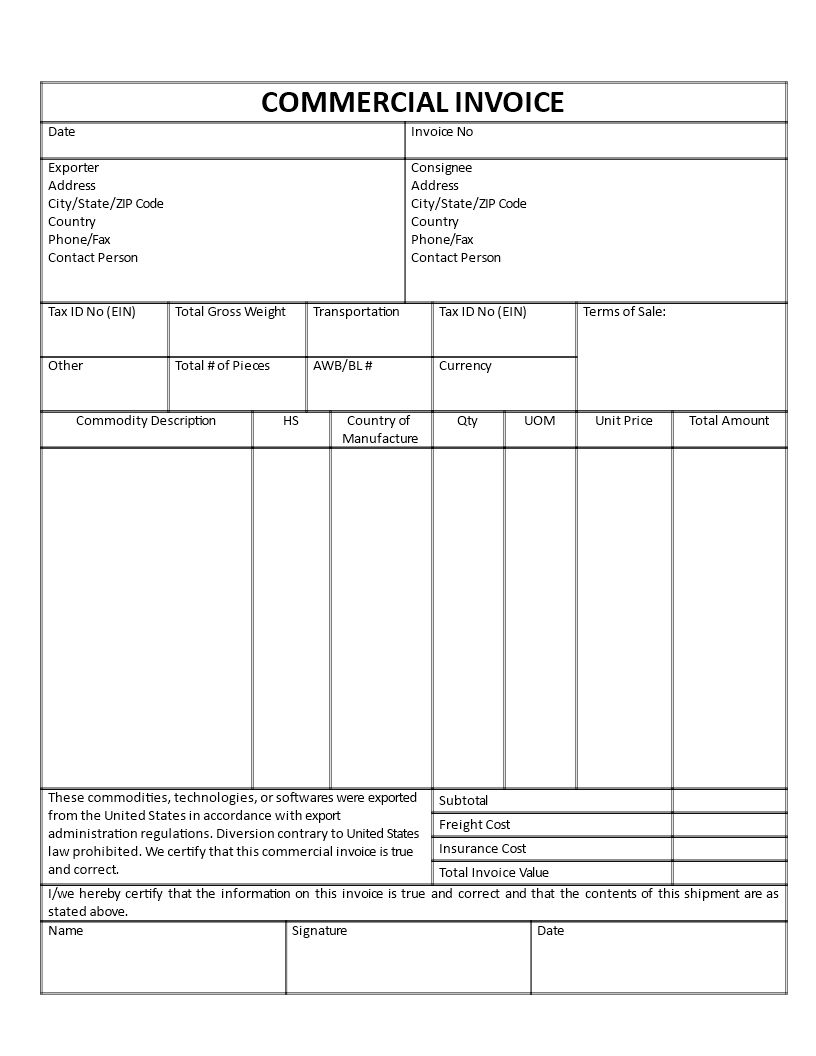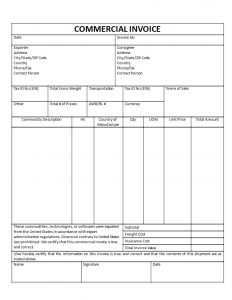 In summary
After you've checked if your shipment is a parcel shipment, LTL or FTL, try to pinpoint any specific services your shipment might need.
You will also want to make sure you've properly packaged your shipment and that you have all of the necessary documentation on hand when the driver comes to pick your freight up.
You don't need to be a freight specialist in order to make shipping easy. Just make sure you know what it is you're shipping; where to and from you're looking to have it shipped and if there's anything you need to mention ahead of time in order to avoid any surprises.
With your newfound knowledge, you are now ready to get your all-inclusive, free freight quote. If you keep the above-mentioned tips in mind, you will get your all-in rate within a few minutes.