Packaging Essentials for Pallet Freight Shipping

Follow these simple steps to make sure your cargo is safe during freight shipping
If your business ships pallets regularly or occasionally, one or more of these questions has crossed your mind at some point:
How do I ensure that my pallets are packaged safely for shipping?

Is there such a thing as using too much padding?

My freight is overhanging from the pallet — is this an issue?

What's the difference between a pallet and a skid? 
In this article, we answer some of the most common and relevant questions when it comes to packaging in pallet freight shipping.
Packaging tips and recommendations for palletized freight
Before safely securing your cargo to the pallet or skid, make sure that you've met the safety requirements first:
Fill your boxes with padding such as crumpled paper bits or styrofoam

Do not overfill them, as this may cause structural weaknesses. However, padding your boxes just enough will make sure that your cargo is safe.

 Distribute your cargo from heaviest to lightest on the pallet

You don't want your heavier boxes to crush the ones on the bottom.

Align the boxes as evenly as possible to ensure stability and box integrity

Properly aligning your boxes can make a big difference in how prone they are to damage

Use pallet corner guards (or cornered cardboard) to protect the corners of your cargo

Don't skimp on the shrink wrap. We know that it may seem wasteful, but it's a lot more efficient than throwing away damaged products.

Wrap any boxes that must remain intact in cardboard or shrink wrap.

Your box is meant to protect its contents. If it's damaged, but the goods inside the box are unharmed, the box has served its purpose. Freight carriers will not consider a damaged box as freight damage. However, if you need the box itself to remain undamaged, make sure to wrap it properly.

Use plastic bands or traps to strap your cargo safely to the pallet

Depending on the dimensions and weight of your cargo, you should use three or more bands going down the length and width of your shipment to make a grid pattern.

Label your freight properly

Improper labeling is one of the leading causes of delays and cargo losses. That's why this step is critical, and you want to take the time to double-check that everything is labeled and placed correctly. The minimum requirement is for your pallet to have at least one label on it, but the best practice is to have each top-right corner of the pallet labeled properly.

Crate your shipment and pad the inside of the crate properly

A crate is by far the safest packaging option available for freight shipping. In most cases, wooden crates will be enough but consider investing in a metal crate if your cargo is of very high value.

Choose the right option for you between a pallet and a skid

Both pallets and skids are (usually) wooden and intended for placing large and/or heavy cargo on top of them. They're the most common packaging type in freight shipping. See the section below for more tips on how to choose the right packaging type for your shipment.
Choosing between pallets and skids 
Both pallets and skids are (usually) wooden and intended for placing large and/or heavy cargo on top of them. They're the most common packaging type in freight shipping.
Despite their similarities and the fact that both terms are often used interchangeably in the shipping industry, they are two different things.
The main difference between a pallet and a skid is that a pallet has two decks, both a top and a bottom one. A skid has only the top one.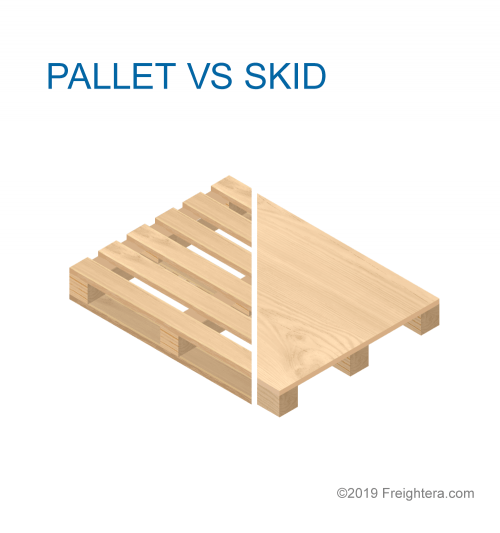 Due to the difference in their structure, pallets and skids can hold different weights. Pallets can hold bigger weights than skids. This is due to the double-deck design of modern pallets, which gives them a larger surface area in contact with the floor, making them less prone to moving around in the truck.
Skids are usually a cheaper option and a better one for storing freight for a long period of time.
Because of this, we recommend using pallets for shipping and skids for storage.
The standard dimensions for pallets and skids are 48 x 48 inches and 48 x 40 inches. A standard dry-van truck is 96 inches wide which makes pallets with the dimensions of 48 x 48 or 48 x 40 inches ideal for conserving space. 
Both pallets and skids can be made from pretty much the same materials, besides wood. This includes wood, plywood, presswood, metal, plastic, or corrugated cardboard. 
Both can be maneuvered by forklifts, although given the fact that skids have been around for almost a hundred years (since the 1930s), they're a bit less optimized for transport than their more modern counterparts. 
Conclusion
In short, make sure that your shipment is safely strapped to the pallet or skid, and that you've used lots of shrinkwrap (on the outer layer) and padding (inside the boxes), along with corner guards and proper labeling. Pallets are slightly better for freight transport, while skids, being cheaper, will suffice for long-term storage.
When you book a shipment through Freightera, your labels are automatically generated. Simply print them out and place them in the top right corners of your shipment.
If you have any doubts about how to package your freight, you're welcome to contact us, and our shipping experts will assist you.
For more information on how Freightera can make pallet shipping easier for your business, see our pallet shipping services. 
Happy shipping and, of course, happy packaging! 🙂