Global Status of the Physical Internet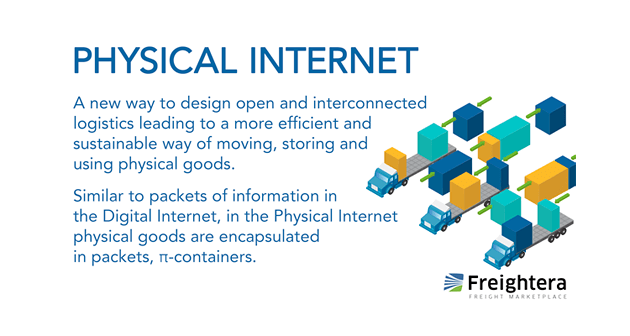 Interview with Benoit Montreuil, Professor, School of Industrial and Systems Engineering; Director, Physical Internet Center; Director, Supply Chain & Logistics Institute, Georgia Institute of Technology, Atlanta
Interviewed by Eric Beckwitt, Founder and CEO, Freightera
Benoit Montreuil is the father of the Physical Internet, a concept he elaborated while at Université Laval, Quebec and disseminated in a series of papers, starting in 2010 and evolving until now. As summarized by Prof. Dr. J. Rod Franklin, P.E.,  at transmetrics.eu: "The Physical Internet is a vision of how physical objects might be moved via a set of processes, procedures, systems and mechanisms from an origin point to a desired destination in a manner analogous to how the Internet moves packets of information from a host computer to another host computer."
EB: What are the advantages to society and consumers?
BM: For society, the Physical Internet (PI) enables order-of-magnitude improvements in the efficiency, sustainability, security, trustability and resilience of supply chains, logistics, and freight transportation, all around the world, within each company and across industries.
For consumers across the world and in every locality, this means cheaper, greener, faster, more convenient, and reliable goods access, pickup and delivery, in normal times as well as during peak and crisis times.
EB: What is the current status of building the Physical Internet?
BM: Each region is approaching this differently.
Europe has been aware and active since 2010. The Alliance for Logistics Innovation Through Collaboration (ALICE), supported by the European Union, made the Physical Internet a key part of their freight systems. Now planning for complete Physical Internet system by 2030. They are making good progress and have the most advanced PI implementation roadmap in the world, and has significant momentum with projects notably in Austria, France, Germany, and the Netherlands.
Asia has a huge opportunity for transformation and innovation. China is moving very quickly now. The action to date on Physical Internet development in Asia has been driven by companies, but now the government is starting to get involved.
North America – Although the Physical Internet was invented in Canada, there has been no government engagement so far there. People in Canada are starting to work on PI, but very small projects so far.  In the US, Amazon, Americold, UPS and other technology firms are getting increasingly interested in building the Physical Internet. When I went to Seattle last fall, I met with several leaders in Amazon's transportation, supply chain and logistics teams: they are well aware of the Physical Internet. Indeed, Amazon has been hiring my graduate students. That said, most firms don't see the big picture yet. At Georgia Tech, around thirty of our graduate students are now working on the Physical Internet, most through research projects with industry.
EB: What are the exceptions? Which big firms are interested in the Physical Internet?
BM: The logistics service providers are more and more engaged toward the Physical Internet: SF Express in China, Americold and UPS in the USA, Yamato in Japan, and DHL in Europe.
Among the top brands, Proctor & Gamble is a big player in this PI game. Amazon already leverages PI concepts in its fulfillment center network. Sephora is looking seriously into the impact of PI on its omnichannel operations, and other retailers are planning projects.
EB: In terms of research and innovation, who is interested?
BM: There is a high interest in PI research and innovation by numerous players in the industry. At Georgia Tech, we currently have important projects with logistics service providers Americold, Home Depot, SF Express, and UPS. Daimler/Mercedes is getting a Physical Internet project on the road.  We work with technology ventures such as Clear Distribution in Montreal and farm-to-restaurant startup Farm'd.
Overall, the Physical Internet globally is now in an "embryonic" state, although still orders of magnitude more advanced than I expected at this stage.
To make meaningful progress now, we need to access decision-makers directly, then show them how this works and how it benefits them.
EB: Can you describe the core systems and layers of this new logistics model? You mentioned a multi-layer architecture?
BM: The Physical Internet defines a global hyperconnected logistics system enabling seamless multi-party asset sharing and multimodal flow consolidation, through open standard protocols and interfaces, and modular containerization. Similar to the Digital Internet, it leverages a multi-layer open logistic interconnection model. The hyperconnectivity stems from intense digital, physical, operational, transactional and legal interconnectivity, ultimately anytime, anywhere. This impacts all PI protocols: we are involved with several trials and refining how to share information, how to operate and make decisions, how to make and record transactions, and how to handle legal issues, in PI networks.
In China, Water Mirror is a new startup working on an operating system for the Physical Internet. In Europe, MixMove is a venture focused on enabling logistics facilities to perform PI-type open consolidation and coordination.
My goal is to have millions of companies using the same standard protocol. Platform operators need this to be interoperable.
EB: Have you patented these protocols, or copylefted them so they cannot be privatized?
BM: No, we decided not to patent. We want the foundations of the Physical Internet to be open to everyone.
We do however want governance of the standards and protocols. We are thinking how to guide collective action. We have a series of papers along that thread, but not yet a centralized set of standards and protocols everyone uses.
It is very important that the Physical Internet has standards, and not let tech companies set them and compete in a way that breaks down the targeted hyperconnectivity and its induced efficiency and sustainability.
For example, PI containers are meant to be reusable, recyclable, smart, connected, modular-size containers, with IP addresses, made of light and renewable materials, and equipped with connectors to easily join them. We need standards for three different tiers of such containers: Packaging containers (designed to avoid damaging product and to be constantly reused), Handling containers (for moving and being stored in facilities and carriers), and Transport containers (like the existing shipping containers, but many more modular sizes). Think of modular Lego blocks and nested Russian dolls.
EB: Have you heard about Freightera? How can we help create the Physical Internet?
In preparation for this call, I checked out Freightera and I love what you are doing, specifically creating an open market that flows freight correctly and automatically connects intermodally. For example, moving a semi-trailer from Montreal to LA. Just by implementing a simple case of relays is improvement and intermodal is a huge improvement.