Freightera Customer Reviews – January 2020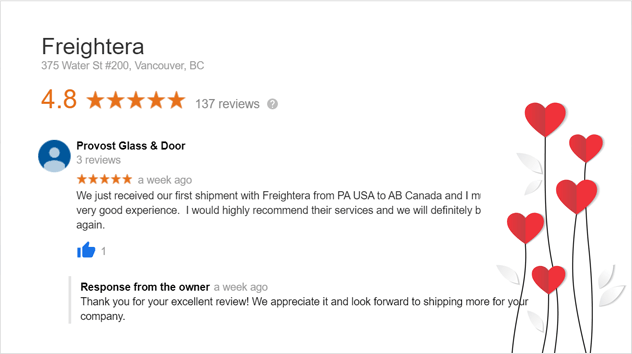 We have said it before, and we'll say it again: great customer service is paramount to any business.
That's why we keep putting so much emphasis on it – we invest time in hiring A-players and in training our employees well. Knowing that our customers are satisfied with our service makes us happy – after receiving customer feedback we know that we're focusing our efforts on the right thing, and we are grateful that this doesn't remain unrecognized!
What we especially love is when our clients mention our employees by name in their 5-star reviews – the fact that their clients know they care means so much to our staff.
Considering that we have gotten nothing but 5-star reviews in the previous 5 months, and that 2020 has started with some stellar recognition, we have decided to share what our customers have said about Freightera since the beginning of this year:
"Awesome Customer Service"

Awesome customer service. They went above and beyond to ensure my freight arrived on time!
"Highly Recommend Their Services"

We just received our first shipment with Freighrera from PA, USA to AB, Canada and I must say it was a very good experience. I would highly recommend their services and we will desinitely be using them again.
"Very Affordable"

We were very satisfied and impressed with the service we received from Freightera. Caterina Amerato accommodated us with professionalism, respect, patience, urgency, compassion, and kindness. Our doors arrived on time and again the delivery was a pleasant experience. The price was very affordable as there were quotes for over 5 times the amount we paid. We will strongly recommend Freightera and always use them for future shipments. Thank you Caterine for your excellent service.
"Excellent Prices"

Excellent prices and prompt response and service. Works with schedules and accommodates my customers.
"Willing to go Above and Beyond"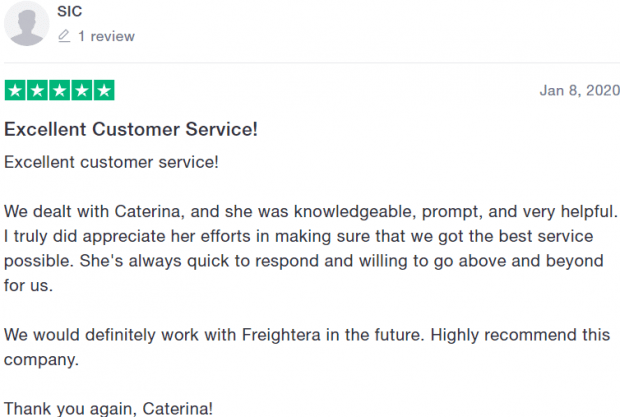 Excellent customer service! We dealt with Caterina, and she was knowledgeable, prompt, and very helpful. I truly did appreciate her efforts in making sure that we got the best service possible. She's always quick to respond and willing to go above and beyond for us. We would definitely work with Freightera in the future. Highly recommend this company. Thank you again, Caterina!
"Quick and Efficient"

The chat person was a huge help to me. She answered my questions quickly and efficiently.
Note: We have identified Helena as "the chat person!" 🙂 
Simply – "Awesome!"

Awesome! So glad I found them!
Our dear customers – we appreciate you as well! 🙂