Shipping Container Markings [Infographic]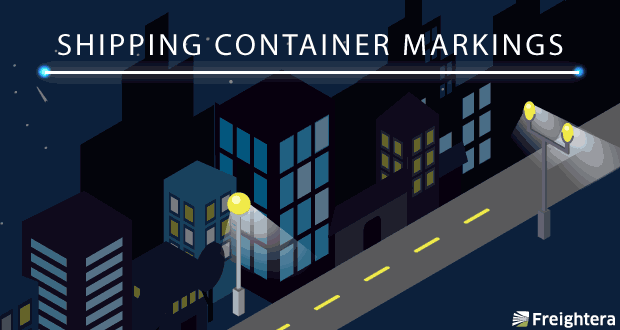 [Updated April 2022]
See our newest infographic answering this question.
Everyone who works with shipping containers uses the container markings. All markings have meaning and understanding it is critical for handling containers, whether you are a hauler, exporter, importer, container depot, or a warehouse, and whether a container is stationary or in motion.

Please share this infographic on your site by copying and pasting the code below:
Shipping Container Markings
1) The Name of Container Owner or Lessor
This identifies the owner or lessor of the container, for example, the shipping line Maersk Line, or the leasing company Triton International.
2) The Container Number
The main identifier of the container. A container number is made up of 7 characters in an alpha-numeric sequence, made up of 4 letters and 7 numbers. This number is unique to a container and is never duplicated.
First 3 letters: Owner code (e.g. MAEU for Maersk Line)*
First 6 digits: Serial number
7th digit: Check digit
4th letter: Category Identifier. U, J, or Z:
U for all freight containers
J for detachable freight container-related equipment
Z for trailers and chassis.
This owner code is registered with the Bureau International des Containers et du Transport Intermodal (BIC).
3) Check Digit
It's the last digit of the container number listed above. This number is used to identify if the container number sequence is valid or not.
4) ISO Code
International Standards Organisation under their code IS06346 gives each container type a unique ISO Code in order to avoid any ambiguity in identifying the size and type of container.
5) MAX. GW
Max Gross Weight indicates the maximum weight that the container can carry. Gross weight includes the tare weight of the container.
6) TARE
This is the tare weight which is the weight of an empty container. This is an important weight to be considered by all ship operators and planners as this weight needs to be included when container stowage planning is done.
7) MAX. CW or Max. Payload
The maximum weight of the cargo that can be packed in the container. This is the weight that is shown on the bill of lading and it DOES NOT INCLUDE THE TARE WEIGHT OF THE CONTAINER.
Shippers must pay special attention to ensure this weight is not exceeded when calculating the weight of the cargo.
8) CU.CAP. or Cube
The maximum volume in the cubic capacity of the container.
9) CSC, ACEP & Other Certifications
Every legal and in-service container will have a valid safety approval plate called CSC (Container Safety Convention) plate in accordance with the International Convention on Safe Containers of 1972.
10) Classification society label for type testing
This label shows the classification society that has tested and certified this container for strength, cargo worthiness, and seaworthiness.
Ready to book and save time & money on shipping? Freight quotes on Freightera are all online, easy, affordable, and all-inclusive.