Nipigon Bridge Failure May Affect Your Shipment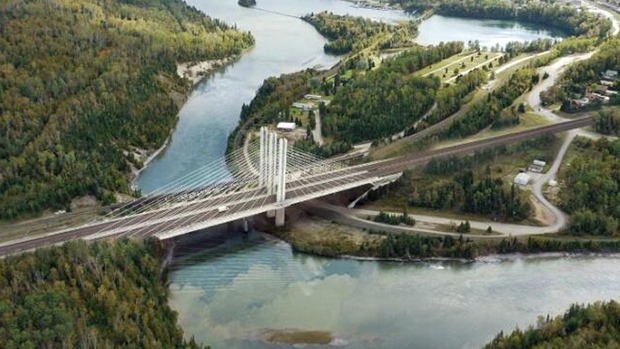 Manufacturers, distributors, and other businesses shipping freight in Canada, this may affect your shipment. A newly constructed Nipigon River Bridge in northern Ontario heaved apart on January 10th, indefinitely closing the Trans-Canada highway (the main road connecting Eastern and Western Canada in northern Ontario). Local authorities have re-opened one lane. A limited number of vehicles are allowed to cross at one time until the bridge is repaired. A significant backlog of traffic will take time to clear.
Freightera shippers, please contact our Customer Care with any questions at (800) 886-4870 or by email. We are doing everything possible with our carriers to minimize transit delays and will keep you updated, but please be advised delays are expected for the next while.
Nipigon River Bridge failure is a big deal for Canada
According to David Bradley of the Ontario Trucking Association and the Canadian Trucking Alliance quoted by this helpful CBC article this is a big deal for Canada: "So much goods and all of the trade — virtually between Western Canada and Eastern Canada — has to take that route, so that does leave us quite vulnerable…. on a typical day about 1,300 trucks carrying $100 million worth of goods cross the bridge…. The main product moving across the bridge is food." It seems that while cars and most trucks are crossing the bridge with a delay, heavy trucks are the ones in most trouble as "officials decide on a "case-by-case basis" whether to allow trucks weighing more than 63,500 kilograms over the bridge."
Our Day and Ross connection reports that "We are calculating an extra 2-4 days of delays on normal transit because of this incident."
Will Canadians and Americans find a temporary cross-border solution to ease the problem?
Canadian and US officials are thinking about opening a temporary border-crossing solution for Canadian truckers to cross from one side of Canada to the other via US roads. We'll find out what they decide by the end of the week.
Keep in mind that rail is not affected by the accident and get quotes from Freightera.com offering 2.5 billion freight rates including rail service to many Canadian communities.