Shipping by Road or Rail: Pros & Cons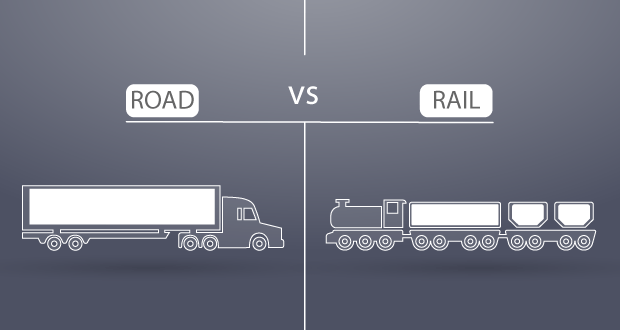 [Updated May 2019]
When it comes to freight transportation, there are several modes of transport: such as road (trucks), rail (trains), air (planes), and sea (ships). Road and rail transport are the two modes used for the movement of goods overland and across continents.
So, what are the main differences between them?
Road transport
Road transport is the most commonly used mode of transport for the movement of goods. Many day to day items such as groceries, flowers, fruits, and dry goods are moved all across countries and continents using road freight. As they say, "If you got it, a trucker brought it!" Road freight is widely used for the distribution and delivery of retail and other forms of cargo from and to various DCs (Distribution Centers).
Rail transport
Rail transport is a commonly used mode of transport, especially in countries and continents with long transit times such as across China, Russia, the USA, and parts of Europe. Freight trains are capable of carrying various types of cargo such as freight containers, vehicles, livestock, commodities such as grains, coal, minerals, and metals, etc.
Road vs. Rail
 

Pros

Cons

 Road 

Freight can be delivered quickly as per a set schedule
Limitations such as cargo size and weights may be applicable for road weight across various states
Cost-effective and economical especially over short distances
It may not be a cost-effective option across longer distances
Used for the long haul, short-haul, local, and over border movements
Slower than rail over long distances
Full door to door movement
Limitations due to weather and road conditions
An easier option for tracking cargo movement through GPS and satellite tracking
Not as environmentally friendly as rail
 

Rail

A greener option for transport as trains burn less fuel per ton-mile than road vehicles
Additional costs to move a container from railhead to final destination, mostly using road freight.
Freight trains carry more freight at the same time compared to road transport
Possible delays in cross border due to change of train operators
On average, long-distance freight movement is cheaper and quicker by rail
Not economically viable across shorter distances
Freight trains have proven to be transit-sensitive even more than ocean freight delivering cargo from China to Europe in as less as 18 days compared to 44 days by sea
Abnormal cargoes cannot be moved in normal rail wagons
Notwithstanding these pros and cons, these two modes of transport can be combined together to offer the customer an intermodal (or multimodal) mode of transport, where both these modes come together to provide a combined road/rail move to offer the customer a seamless door to door transport option.
Looking to Ship Freight?
Compare freight quotes from multiple carriers for free, and book instantly at Freightera.com.
Free Freight Quotes

For Businesses