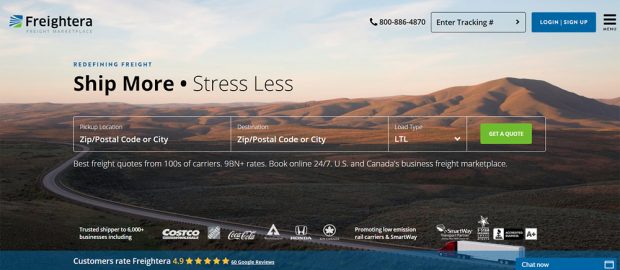 If you received our rate updates before, you may wonder, how does Freightera get better prices every time? The answer is simple, we continue to add hundreds of millions of new lanes every month, and give you access to new carriers. We just brought online several new carriers in the US, and rates between cities in the North Central US just fell up to 41% more off our previous low prices:
Rockford, IL 61109 to Minooka, IL 60447 Was: $121.49 USD. Now: $91.57 USD 25% Savings!
Tinley Park, IL 60477 to Rockford, IL 61109 Was: $120.23 USD. Now: $91.57 USD 24% Savings!
Chicago, IL 60617 to Chicago, IL 60601 Was: $121.92 USD. Now: $72.29 USD 41% Savings!
All sample rates are for 1 skid, 500 Lbs, 48 x 40 x 48, Class 125
And… drum roll, please! We just went live with the long awaited Cargo Insurance. Now all loads you book via the Freightera platform are automatically covered by up to $10,000 in FREIGHTERA Cargo Insurance. This is the best in the US and Canada, and at no charge to you! Just enter your declared value as you book. Need additional coverage? We now have automated coverage up to $500,000 per load at very reasonable prices so you are always covered.
Happy shipping!