Zhenya Beck Among the Top 50 Women Leaders of Vancouver for 2023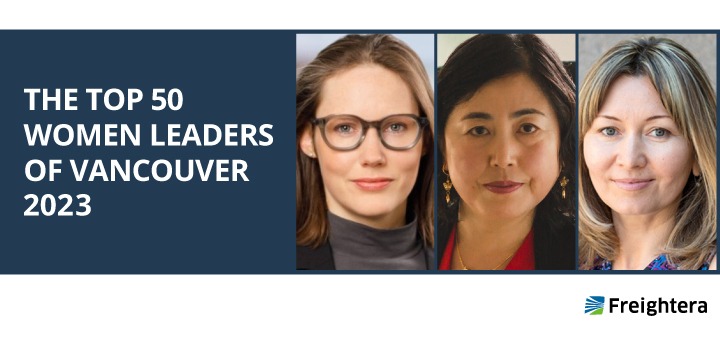 Freightera is honored to announce that our Co-Founder and Head of Marketing Zhenya Beck, is among The Women We Admire's Top 50 Women Leaders of Vancouver for 2023. This prestigious list celebrates inspiring women who are role models in diverse sectors. Today, the spotlight is on Zhenya, whose impact has been pivotal in our journey.
The Driving Force Behind Freightera
Zhenya has been transformative in shaping our innovative online platform, Freightera brand, and company culture. She is a passionate marketer and product developer committed to company and customer success and with her efforts, we've received numerous accolades, including being named one of Canada's Top Growing Companies and receiving the Deloitte Technology Fast 50 Award.
Zhenya's commitment to environmental sustainability is nothing short of inspiring. Her early writing at age 12 on Siberia's Lake Baikal sowed the seeds of her environmental mission first as a newspaper journalist and later as a leader and entrepreneur. Her focus on sustainability was rekindled when her son suffered from air-pollution-induced asthma in Northern California. As a result, Freightera was envisioned with the green mission from day 1 and we've collaborated with the USA EPA/Environment Canada SmartWay program to offer our customers the first lower-emission freight marketplace in North America. In 2023, more than 600 firms using our platform reduced their emissions by over 20%.
Before The Success at Freightera
Before Freightera, Zhenya had a thriving career in journalism, web development, and digital marketing. She holds a Master's Degree in Journalism and has an Award in Digital Analytics from UBC. Her passion for innovation and sustainable growth embodies the values that drive us at Freightera.
Join us in celebrating Zhenya Beck and other remarkable women who made it to the WWA Top 50 Women Leaders of Vancouver for 2023. 
If you'd like to see more about what made Zhenya's battle to make Freightera special, take a look at our Green Freight page which goes in more detail about our mission and how we set ourselves apart from the competition!