How to Ship Heavy Haul & Oversize Loads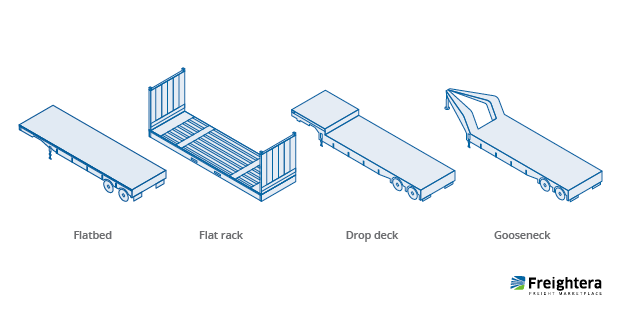 [Updated June 2023]
Easy Guide to Shipping Heavy Haul & Oversize Loads
Shipping heavy haul and oversize loads is as complicated as freight shipping gets, with many intricacies that can cause you headaches.
It pays off to get informed and prepare well. That's why we've created a short guide to make oversize load shipping easier and less stressful. Read on! 🙂
What are heavy haul loads?
Heavy haul shipments are heavy loads that have to be shipped using specialized trailers that can handle the extra weight.
A standard FTL (Full truckload) shipment can weigh as much as 44 000 lbs as long as it's not too large (oversize). For heavier or larger loads, specialized equipment will likely be necessary.
What are oversize or over-dimensional loads?
Oversize loads, over-dimensional loads (OD loads), or overweight loads are shipments with dimensions and/or weight that go beyond legal limits and require special equipment and permits for shipping. Sometimes, they're also referred to as ''superloads.'' OD loads have to be non-divisible, which means that they cannot be taken apart or reduced in size, and shipped as separate regular (legal) loads.
These two terms are often used interchangeably because a lot of times an OD load is also a heavy haul, but not always.
What kinds of loads are shipped as oversize/heavy haul loads?
Manufacturing equipment, industrial shipments such as large machinery, and vehicles are usually shipped as heavy haul or OD loads.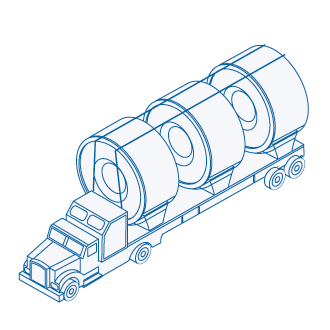 What makes cargo oversized?
A shipment is considered oversize or over-dimensional if:
It's wider than 8.5 ft (102 inches or 2.60 meters)
It's longer than the vehicle's bed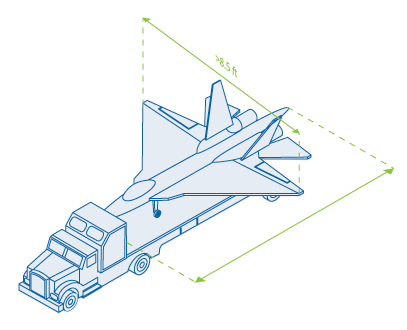 What are the requirements for shipping heavy haul/oversize loads?
Before shipping heavy haul, you need to acquire all the necessary permits. Every Canadian province and US state has different regulations and limitations when it comes to shipping oversize loads, and some US states even differ between counties. If you're shipping across state or provincial lines, you need to get permits in each of those jurisdictions.
Obtaining permits may take up to several weeks. The rule of thumb is: the larger the shipment is, the more time it's going to take to get a permit.
Getting the right permits is an important step, as not having permits or having the wrong ones can cost you a lot of time and money.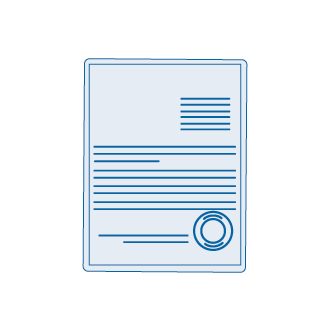 Take these things into account when shipping heavy haul/oversize loads
Are support vehicles needed, such as pilot cars, chase cars, or bucket trucks (trucks that move overhead cables)?

Are there any construction zones on the route?

Are there any train tracks or bridges on the route?

What is the weather going to be like during the shipping period?

How many days is the shipment going to take? In many cases, OD loads can only be shipped during the daytime.
What are the types of trucks that can ship heavy haul/oversize shipments?
There are four main trailer types for shipping heavy haul / oversize loads:
Flatbed trailer
Flat rack trailer
Drop deck (step-deck or lowboy) trailer
Gooseneck trailer
What is a flatbed trailer?
A flatbed trailer ⁠is a type of trailer with a completely flat trailer, or bed, with no sides or roof, allowing for easier loading/unloading of shipments.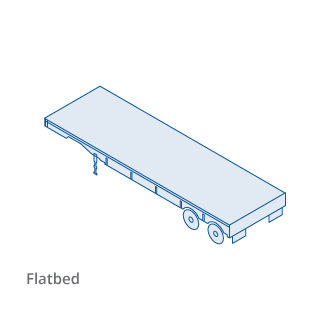 What is a flat rack trailer?
A flat rack trailer ⁠is a trailer that doesn't have sidewalls or a roof, which makes it easier to load/unload and carry shipments of different shapes and sizes.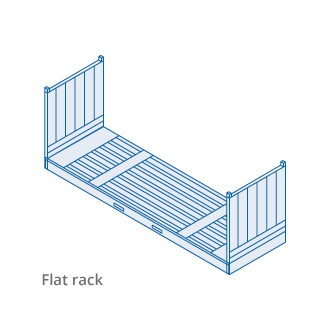 What is a drop deck (step-deck or lowboy) trailer?
A drop deck (step-deck or lowboy) trailer ⁠is a platform with two deck levels, and no sides, no roof, and no doors. The lower deck can accommodate taller loads (up to 12 ft tall) than a regular straight-floor flatbed.
These trailers are ideal for the transportation of pipes or machinery.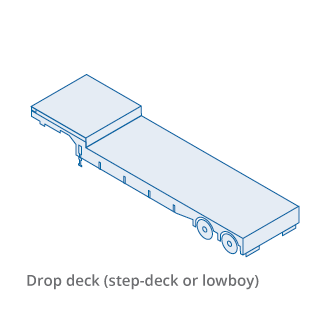 What is a gooseneck trailer?
A gooseneck trailer ⁠is a trailer with a long ''neck'' that extends over the back of the tailgate and uses a ball hitch that is placed into the box of the truck. They offer better load transfer and weight distribution.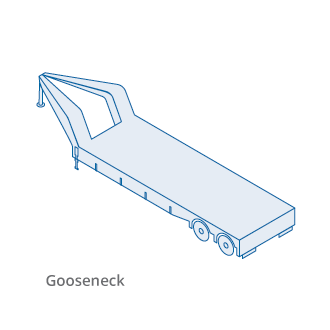 Now that you're familiar with the basic requirements for shipping OD loads, let's get to the specifics of what you need to do before you ship your heavy haul.
How to ship heavy haul
1) Find the right shipping company
Considering the complicated logistics of shipping oversize loads, you'd be saving a lot of time and money by finding a reputable carrier, broker, or online freight company such as Freightera to assist you with shipping. 
The cheapest option is not always the best one, and not every carrier will suffice. You need to find a reliable transportation option to ensure that your freight arrives safely and on time. Not all carriers service all states or provinces, or are familiar with the legal requirements for shipping large cargo.
Freightera shipping experts are seasoned in transporting heavy haul and will help you arrange to ship with specialized, licensed carriers who know the specific regulations of different states and provinces and are able to properly execute such a complex operation. 
If anything goes wrong, we will always have a back-up carrier with confirmed availability.
2) Know the exact dimensions and weight of your shipment
Properly measuring your shipment's length, width, height, and weight is crucial in heavy haul shipping. A few inches or lbs of difference may result in a change of route and price, and if the dimensions or weight are subsequently changed, the carrier will need to re-apply for another permit, which will result in extra charges and shipping disruptions.
You will find that, along with measuring, a specification sheet will help you a great deal as well in this regard.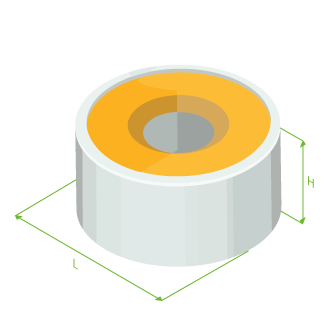 If possible, you should disassemble the products, and assemble them again after delivery. Also, try to provide the carrier with exact descriptions of the shipment (with pictures or diagrams), so they could prepare well and choose the right type of truck.
3) Plan how you're going to load/unload your freight
Before it goes on its way, your shipment will need to be loaded safely onto the trailer. Depending on the load, you may need a crane or a forklift to do that, and the same goes for unloading at the delivery location.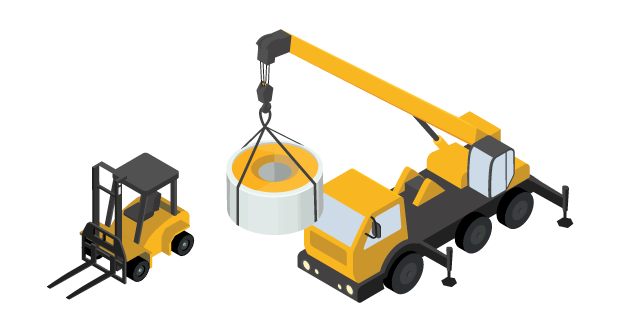 In case of delays in loading or unloading, you may incur significant charges.
If you have any doubts about loading or unloading, our shipping experts will assist you every step of the way. Send us your inquiry at [email protected]!
4) Confirm any special shipping requirements
Shipping and packing requirements are going to be different depending on the type of your shipment. Shipping industrial machinery isn't the same as shipping vehicles. 
Consider whether you need specialized equipment for transportation, such as flags, rotating lights, tie-down points, or bracing. If your load is fragile, you need to strap it to the truck, and if it's sensitive, you need to protect it from the elements using tarping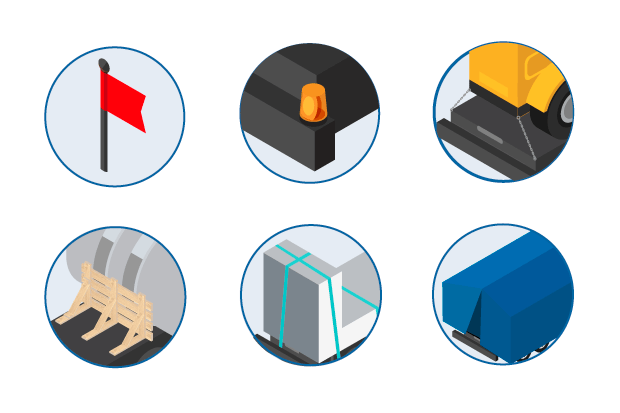 This specialized equipment is expensive and in demand, and it needs to be arranged with the carrier beforehand.
5) Plan ahead 
Since over-dimensional shipping often requires special equipment and trucks that can be in limited supply, it is a good idea to give yourself a lot of time to get organized and to give the carrier enough notice. This may take weeks, and more complicated loads can even take months.
The earlier you start planning, the better, so you could do your best to avoid last-minute updates, delays, and routing issues. 
6) Coordinate with the recipient of the freight
Verify with the delivery location that they have the right equipment to offload the freight safely. Many issues in heavy haul shipping occur because of poor communication between the shipper and the consignee. 
7) Consider freight insurance
Overdimensional loads tend to be pricey, so make sure that your item is well-insured before putting it on the trailer. 
Most carriers offer in-house shipping insurance. If you have any questions about carrier shipping insurance, contact us at [email protected]! 
8) Confirm the carrier is taking care of the shipping permits
Usually, the carrier will apply for the permits and include this in the shipping quote. To avoid surprises, confirm that this is the case with your shipment before you set up a contract with the carrier. 
9) Expect the unexpected
In freight shipping, there is always a chance for unexpected hurdles, and this is particularly true for heavy haul shipping, considering how complicated it can be even with the most diligent planning and schedule. And when issues arise, you need to act quickly. That's why it's important to prepare for the unexpected.
Final thoughts
Heavy haul shipping is complicated, no doubt about it. And the best you can do to avoid stress and save time and money is to get informed, plan well ahead, and let the professionals help you.
Freightera shipping experts have been handling heavy haul shipments for years, shipping for small companies and large ones such as Coca-Cola. By clicking on the link you can learn more about the specifics of what we can do for you. Staying informed is extremely important, but leaving the hard work to the professionals is a luxury you can afford with Freightera.
We know that each OD load is different, and we will tailor our solutions to your particular needs! Our dedicated logistics experts will help you plan your oversize load shipping and help you track your shipment along the way.
Happy shipping! 🙂