Heavy Haul, Oversize Freight Transport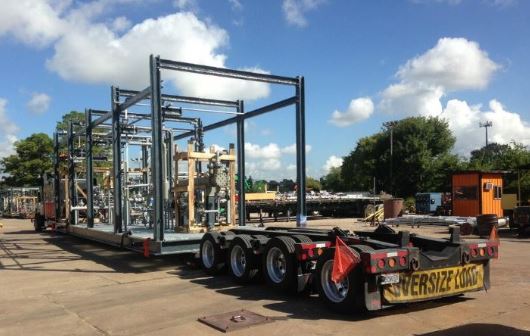 Heavy Haul, Oversize Freight Transportation – Case Studies
Here are 2 interesting projects we worked on recently, with photos of the heavy, large, and oversized loads.
Project 1 – Heavy Equipment Hauling
Customer: Large US chemical and refinery services company
Industry: Chemical Processing, Oil & Gas
Goal: Freightera was tasked to move 8 heavy, oversize refinery units from Houston, Texas to Toledo, Ohio, USA (over 1250 miles) and 10 flat-bed loads.
Back in August 2016, a client had to move 8 refinery pieces of 45 ft x 14 ft x 16 ft x 4 and each weighing an excess of 50,000 pounds, some were almost 100,000 pounds loaded on a truck. Each unit required an entire truck. These units required very special equipment and documents to move them:
permits in all the states they moved through, and sometimes even permits for each county like in Ohio,

agreements to be signed,

insurance for $1.5 million for each unit,

each department of transport for each state defined the route that we would take because they couldn't travel down the main roads and highways,

regular escorts and even police escorts in states like Ohio,

Bucket trucks are trucks that lift the power lines over the equipment so that the trucks could pass.
We dropped the height of the pieces from 16 feet to 14 feet 9 inches by dismantling a few pieces, which still caused a lot of extra work. When loaded onto the truck, the units were still very close to the ground, literally inches off the ground.
We moved the units 2 by 2 so 2 trucks would travel together. Once 2 units were delivered, drivers would drive back to Houston and load the next 2 units and go back and forth.
We started the shipment of the first 2 units in the middle of September. The final delivery happened in December 2016 so the whole project expanded over almost 3 months. It could take up to 10 days for 2 refinery units from Houston to Toledo, while the flat-bed loads would do it within one or 2 days maximum through the highway.
We'd like to thank our carrier partner who took exceptional care of all the permits, they handled it all, and they were exceptional!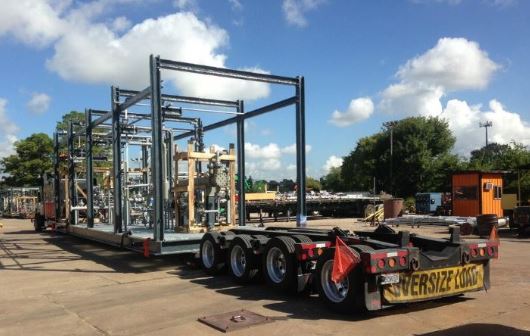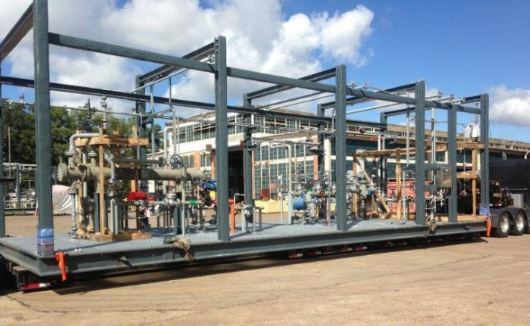 Project 2 – Oversized Equipment Transport
Customer: Leading US manufacturer of soft drinks
Industry: Food & Drinks
Goal: Freightera was tasked to move heavy oversize manufacturing equipment from Montreal QC to Richmond BC Canada, September 2016
Back in September 2016, a customer requested a quote for a shipment from Montreal QC to Richmond BC, but we didn't know the dimensions and what it looked like so we went to the location, took pictures to see what was on the side of the units, and took measurements of the cargo.

A crane had to hoist the units over the truck. The driver made sure the units were positioned properly and balanced over the wheels as it was heavy. We used a step-deck because it would have been too high on a regular flatbed. The driver then chained the shipment down, added safety flags on the sides and back, markings on the front and back of the truck.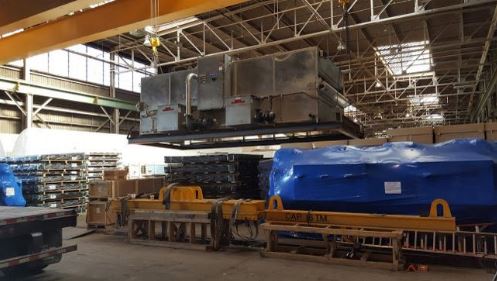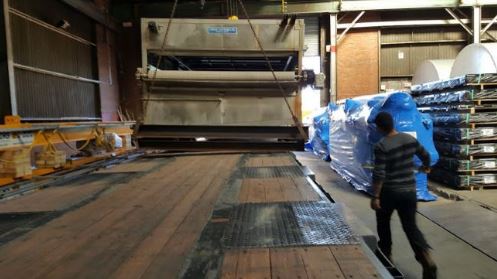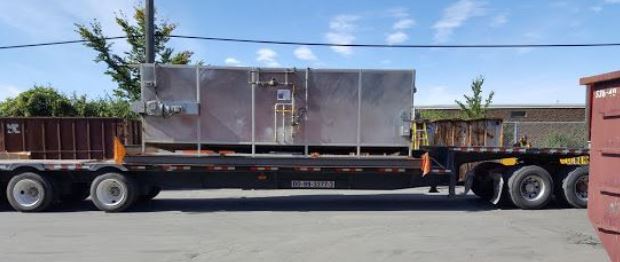 We went to another yard to pick up the remaining equipment. Went back to the 1st yard to tarp the whole load, so it'd be protected and safe for transport.
The whole shipment was delivered safely and on time to Richmond BC.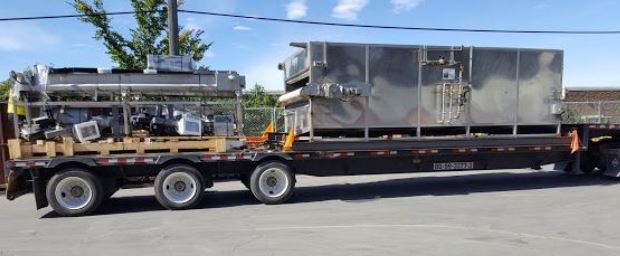 Get quotes for your heavy haul shipments.