7 Tips For Shipping Heavy Haul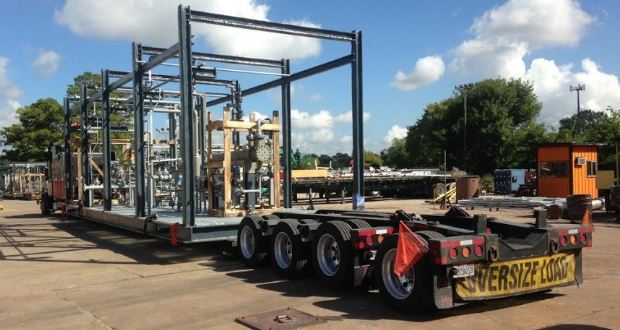 What is a heavy haul?
[Updated June 2022]
'Heavy Haul' as a term in freight describes a shipment carrying an unusually large and wide load.  For example, manufacturing equipment that exceeds the guidelines for legal dimensions (width, height, or length) and/or weight limits in which case special equipment and special permits are required to transport the load. Heavy Haul in turn may have limits and may be referred to as a 'Superload'.
Here are some tips for you to make your heavy haul shipment as stress-free as possible.
1) Get help in finding the right trucking company
Hire a reliable and experienced carrier, broker, or online freight company like Freightera to assist you. Ask lots of questions, and ask for references, pictures, and any evidence that the Carrier is experienced in organizing and handling these types of heavy hauls before. Research them online to make sure there are no claims against them and that they have the right insurance. The way they respond will tell you a lot about the service you'll get along the road.
2) Know your freight's dimensions
Width, height, length, and weight. These attributes will dictate the type of permits needed for shipping over-dimensional loads. A few inches of difference may result in a change of route, permit, and cost. Once the carrier has requested a permit for certain criteria, if the dimensions or weight are subsequently changed, the carrier will need to re-apply for another permit at the shipper's cost.
And let's be honest, the last thing you need is for your shipment to check the height of an overpass.
3) Know how you're going to put your load on the truck
Do you need to hire a crane? A large forklift? On both ends: pickup and delivery?
4) Confirm any other special requirements
Do you need bracing, tarping, tie-down points, or flags? If the load is fragile, how will you strap it down to the truck?
5) Plan ahead
Give yourself lots of time (weeks or even months) to get organized, to get all the permits, and give the carrier time for all arrangements.
6) Confirm with the trucking company regarding permits
Often, for shipments that are not outside the norm of oversized cargo shipping, carriers will have time-based permits ready to go. If this is not the case, the Carrier will take care of requesting permits and include them in the shipping cost once you contact them. Confirm what the case is with your particular move.
Whatever the case, it's best to stick to tip number 5 and check everything ahead of time.
7) Be prepared for the unexpected
Even with the best planning and preparation, there may be an unexpected hurdle, such as additional escort services or permits.
State permits vs County permits: Each state and province has different regulations and limitations.

There are few national standards.

Some States may even differ between Counties. Obtaining approval for permits may take up to several weeks. Significant additional costs may be incurred at each State/Provincial/County/Municipal boundary.

Support vehicles may be needed: Pilot cars, chase cars, bucket trucks (trucks that move overhead cables).

Unexpected construction zones: The trucks and trailers may have to take a different route which could mean more equipment, transit time and therefore cost.

Weather: Weather may cause unexpected delays, especially during certain seasonal extremes in Canada & USA.

Train tracks and bridges: Heavy Haul may require a significant amount of alteration to road surfaces or clearance considerations when no alternative routes are available.
Any of these delays can add unexpected additional costs. The more prepared you are, the fewer unexpected costs will occur.
Contact us for a consultation and your Heavy Haul quote. Call us (800) 886-4870 Ext 1. or email clientcare@freightera.com. We will be happy to help you to find the right combination of Carrier and cost to fulfill your special needs.