LTL vs. FTL Freight Shipping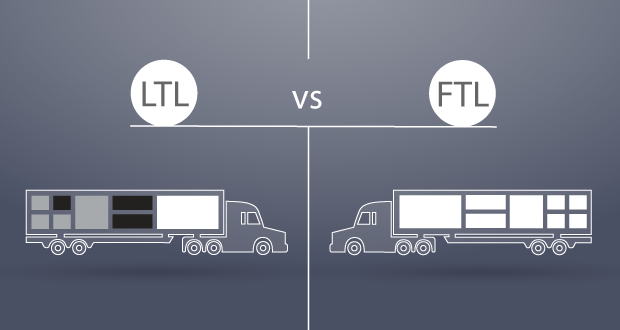 [Updated in June 2022]
If you are in the business of shipping goods across the USA or Canada using land transport, you're in the right place. You are concerned about cost-effectiveness, timely delivery, and the safety of your shipment. As there are multiple modes of moving your cargo, it's important to know which mode to choose that checks all those boxes. Most common among these modes of transport are LTL (Less than Truck Load) and FTL (Full Truck Load).
The mode of shipping that is best for you depends on:
the size of your shipment,

the budget,

the sensitivity of the freight,

and the time frame for delivery.
Which freight shipping mode is right for your business: LTL or FTL?
LTL (Less than Truckload) Shipping

Pros

Cons

You don't have to pay for an entire truck when you can share the cost of one with other shippers

LTL freight may not cover all routes within the country as volumes may not be available

LTL shipping may suit you whether you are a conglomerate or a mom-and-pop store

It may not be the best choice for handling sensitive cargo due to possible multiple handling along the route, as the freight is being transported from and to multiple terminals

Shipping is possible to various locations around USA and Canada, and cross-border, with hundreds of carriers offering this service

It may not be the best choice for guaranteed time-sensitive cargo as your freight might have to wait a while for carriers to consolidate cargo on that particular route

Your freight can be secured and safely transported using pallets or skids

Rates may not be the best for cargo of more than 6-8 pallets, which may be more cost-effective if shipped as an FTL

It's a cost-effective transportation option for any cargo made up of less than 6 pallets

Not all carriers offering this service have their own hubs and they may depend on 3

rd

party hubs, which could increase 

shipping costs
FTL (Full Truckload) Shipping

Pros

Cons

It's the best option to handle high-value cargo as you will have a dedicated truck to yourself

Shipping costs could beconsiderably higher than LTL freight

It's the most suitable option for handling sensitive cargo due to the reduced handling of the goods at transfer points

LTL carriers can usually offer better rates than FTL carriers because of economies of scale and various partnerships they have with other carriers

It's a better option if you require guaranteed timely delivery – you get a dedicated truck that doesn't need to wait for the consolidation of cargo

FTL carriers may not provide value-added services such as handling services at pickup or delivery points

It's a cost-effective method of transportation if you have more than 6-8 pallets to ship

FTL carriers may be restricted in terms of flexibility of cargo movement – e.g. if a truck breaks down and the goods are stranded

You can get quicker and more accurate rate quotes from carriers as they may have set rates based on your FTL weight and locations

FTL shipping does not offer the opportunity for E-Commerce type of shipments where the volumes may be smaller and specific to the cargo or business
Get free freight quotes at Freightera.com. Quotes are all online, easy, affordable, and all-inclusive.