Stay Safe During Spooktober with These Anti-Horror Freight Shipping Tips

With the season of spook upon us, we wanted to share some tips on how to avoid the horrors of extra charges or damage during freight shipping
Why do people enjoy watching horror movies? There are numerous reasons, some of which are novel experiences, adrenaline, catharsis, etc. But a requirement for enjoyment is safety. We need to know that we are safe in order to enjoy the feeling of fear.
In the shipping industry, we come across many horrors and we, unfortunately, don't have the feeling of safety we do when we're watching movies. That doesn't mean we can't strive to be as safe as possible during shipping! That's right! There are ways to make even freight shipping safer, and dare we say, fun!
What you'll want to pay attention to are the packaging, documentation, carrier reliability, and insurance.
Freight Packaging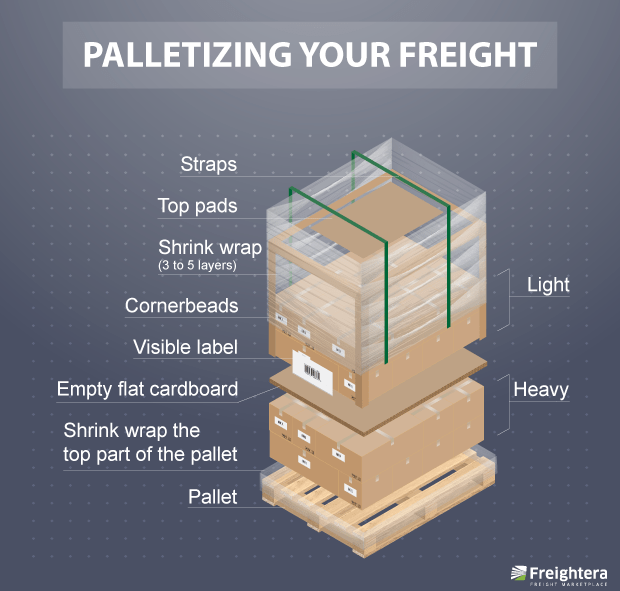 The first step of the shipping process is the packaging. Before you've even requested a shipping quote or even looked at your shipping options, you should have your shipment properly packaged. 
In most cases that means palletizing or crating your shipment, the more common of the two being palletization. 
The reason for this is that crates are somewhat more expensive. We recommend using them when your shipment is very fragile or very valuable. In most other cases, placing your shipment on a pallet will be more than enough.
We have a detailed, yet very easy-to-follow guide with step-by-step instructions for palletizing and shipping your cargo. If you follow the instructions listed here, you're more than certain to avoid the horror story of damaged freight. You'll be able to sit back, relax and enjoy the spookiness in safety.
Shipping Documentation
We won't go as far as to say that this is the most important step to take care of during freight shipping because they're all important. However, making sure your documents are in order is the "Nightmare on Elm Street" (original, of course) of classic horror movies. Definitely up there, and you don't want to miss it.
The documents used by shippers for every single freight shipment are the bill of lading, shipping labels, and after the shipment has been delivered — an invoice.
One of the most common documents that are not always used, but is mandatory for cross-border shipments is the customs invoice (or a commercial invoice).
For an in-depth look into the world of shipping documents, we recommend taking a look at our definitive guide to freight shipping documents. 
Carrier Reliability
This step is for the connoisseurs of the horror genre. It's not something that will take care of, and it's not the most important thing to take into account. It's still important though, so don't skip ahead just yet!
The reason that this step is not as important when it comes to safety as some of the other ones on this list is that most carriers are just trying to do their jobs, and they're trying to do it right. 
With that said, not all carriers are the same. Some are more reliable than others whether it be punctuality, damage or loss percentage, service or tracking accuracy, etc. 
That's why this step is still incredibly important if you're looking at price second, and making sure your shipment is delivered on time and in one piece first.
You'll want to look at the carrier ratings on the Freightera website to make sure you pick the right one for your shipping needs. You may also want to check their Google reviews or ask our staff of shipping experts for advice before you commit yourself to a carrier.
Insurance
This is the icing on the cake. It's the hot chocolate or spiced wine that will keep you cozy and secure during your shipping experience. A spooksperience, if you will. 
We've recently returned third-party insurance to our system which you can use to instantly insure your cargo for the desired amount without having to wait or talk to anybody (if you don't want to). You simply select your commodity type, enter the value, and voila, a price appears for you to accept or decline based on your preference. 
This section is relevant for many of our customers because the standard carrier coverage for most carriers is only $2 per lb. That means that a shipment of 500 lbs would be insured for $1000 regardless of its value. Whether that's a lot, just enough, or not even worth looking at is for you to decide. 
Conclusion
All of this information should help keep you safe during the spookiest time of the year for our clients — the shipping season. 
In all seriousness, though, we hope that you enjoyed reading this article and that you've learned a thing or two. If you have shipping needs of your own, we strongly recommend getting pallet shipping quotes on Freightera. It costs nothing, it's nearly instantaneous, and you're more than likely to like what you see both price-wise and service-wise.

Happy shipping and a happy spooky season!