Customer Care - We Care About You
They value and care about you as much as you care about your shipment.
Lucia bucci, crystal world - Markham, Ontario
You know how it feels when you need urgent assistance, and we're all aware of what usually happens with the companies that aren't committed to doing their best.
It's not uncommon to call a customer service and either be put on hold for a long time, or be transferred from a rep to a rep without anybody knowing how to answer your question.
At Freightera, we don't allow that to happen. We care about your freight as if it were our own. Our client care team, unrivalled in the industry, has been handpicked to attend to all your shipping needs.
If you're new to shipping, we're here to answer your questions.
If you have an odd shipment that you're not sure how to handle, we're here to advise.
If you have any concerns or comments, or just want to chat, we're just an email or a phone call away!
While our carriers focus on what they do best -- getting your freight where it needs to go – our 5-star client care team focuses on you! Even though freight shipping can be stressful, we want you to be stress-free. Let us help you.
We may be biased when we say that you'll love our service, but our customers are not – click here to read 5-star reviews written by our awesome clients.
Chat with us, call us at (800) 886-4870 Ext. 1 or email us at [email protected].
We're looking forward to hearing from you!
Freightera 100% Super-Friendly Chocolate Guarantee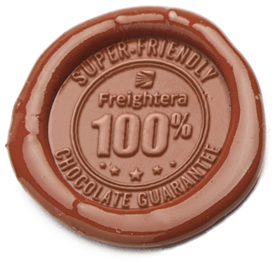 We are so confident that you'll receive a 100% super-friendly experience with each member of our customer service team that we are offering you a free box of chocolates if that doesn't happen. Just email [email protected] the complete details of the unsatisfactory interaction and your choice of Milk or Dark (this guarantee only applies to Freightera booking customers).