Why Freightera?
Reviews from our customers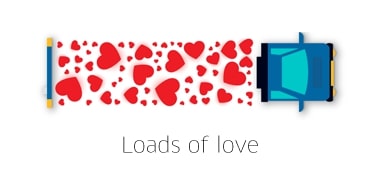 Recent Reviews
Previous
Next
I've been using Freightera for several months and am super happy with every aspect of their process. My regular contact gets quotes back to me sometimes within an hour - and 9x out of 10 - they are the most competitive in both domestic short haul LTL and North America. Not common in my experience. They go out of their way to explain and be clear - and don't make assumptions that you're an experienced logistics coordinator (which I'm not). So - great service!
Dylan Armour, General Manager
FlexMSE Vegetated Wall System - Surrey, British Columbia
Great people! Awesome Service! Wonderful follow-up! Freightera has helped streamline my LTL shipping. I'm looking forward to working with them on my heavy haul shipments.
Jay Whiting, Logistics Specialist
H2O Innovation - Quebec City, Quebec
Excellent, Second to None. Seriously, saved over $1000.00 on first shipment. Hoping to see further e-Commerce integration soon! Highly recommended, no b.s.
Michael Kane, Owner/President
Prestige Refrigeration - Philadelphia, Pennsylvania
Excellent website - so easy to use and navigate. Best prices I've found for LTL shipments from Canada to the USA - I'm saving 50% compared to my old rates.
DUSTIN JEPSON, Owner
PermaTint Limited - Concord, Ontario
Last week was the first time I used Freightera and I can not believe the excellent service that I experienced and the great quoted price. I had one skid to be picked up in Ohio, it was picked up on time when they said it would be. It was delivered on time when they said it would be and NOT damaged. What more can I say: Great people, great service, and great prices. Freightera will be receiving all my USA to Canada future shipments.
Bob Osborne, Owner/President
R.D.Strickland - Erin, Ontario
I saved over 50% using Freightera over my previous company. The customer support staff was very helpful. I will definitely be using Freightera for all my future LTL shipments. Thank you Freightera!!!
Doug Eaton, Co-Owner
Surgically Clean Air - Mississauga, Ontario
A great service that gives you confidence knowing you are getting the best price. I wouldn't ship any other way.
Daniel Poggi, Owner
Climb Base5 - Coquitlam, British Columbia
I've had excellent service from Freightera thus far. Their sales team has been prompt, efficient, detail-oriented, and has found extremely competitive rates for my shipment needs. All shipments have been picked-up and delivered on time, the tracking info has been accurate, and the arranged carriers have provided appropriate communication for delivery.
Michael Woodard, Project Manager
Ceres Greenhouse Solutions - Boulder, Colorado
I have been shipping with Freightera for the last 3 years, and as a wholesale business supplier I would say Freightera is the easiest, fastest, and the most reliable freight supplier I had business with for the last 16 years in furniture business.
Sam Badran, Sales Manager
Oak Furniture - Yonkers, New York
Freightera has helped our company C & C Alianza Services Inc and Modern Butcher Supply to save freight cost in so many ways... we totally recommend Freightera to anyone who wants to be in control of their transportation spending.
Jorge Estrela, Materials and Logistics Coordinator
Modern Butcher Supply - Brampton, Ontario
We have been using Freightera for well over a year now, we couldn't be happier with the service, the ease of use and the ability to maximize our productivity on shipping. They have a customer for life.
Cam Haszczyn, General Manager
Roofers World Inc. - Ottawa, Ontario
My customer service rep Sandra is fantastic. I trust Freightera to find the best delivery service for me across North America. It's nice to have someone I trust to handle the back end for me while I keep selling.
Kevin Baril, President
Grilla Covers - Calgary, Alberta