Vancouver, BC company, Freightera offers FREE cloud-based B2B online freight marketplace with 100s of reliable LTL & truckload carriers, where you can search and compare instant all-inclusive freight quotes & book shipments online 24/7.
It is also the greener way to go. More efficient shipping means lower energy use and carbon output. When it comes to people, planet and profit, Freightera helps you run a sustainable business. That way, we all come out ahead. Yes, we may be a little biased, but we think you will love our rates and service just like other happy shippers that gave us
awesome reviews
.
Don't ship anything until you check our prices. It's easy, instant and free.
Register today
and get unlimited access to exclusive rates from hundreds of carriers. Let the system search over 9 billion freight lanes, and book the deal you want with a click of a button. New to shipping freight? We're here to answer all your questions and hold your hand.
How It Works
Freightera makes freight shipping transparent and easy! These days, it's easy to book a flight or hotel online – and for shippers, Freightera works the same way.
Type in the shipment origin and destination, dates and quantity of freight
See selection of available trucks and rates
Choose the deal you want!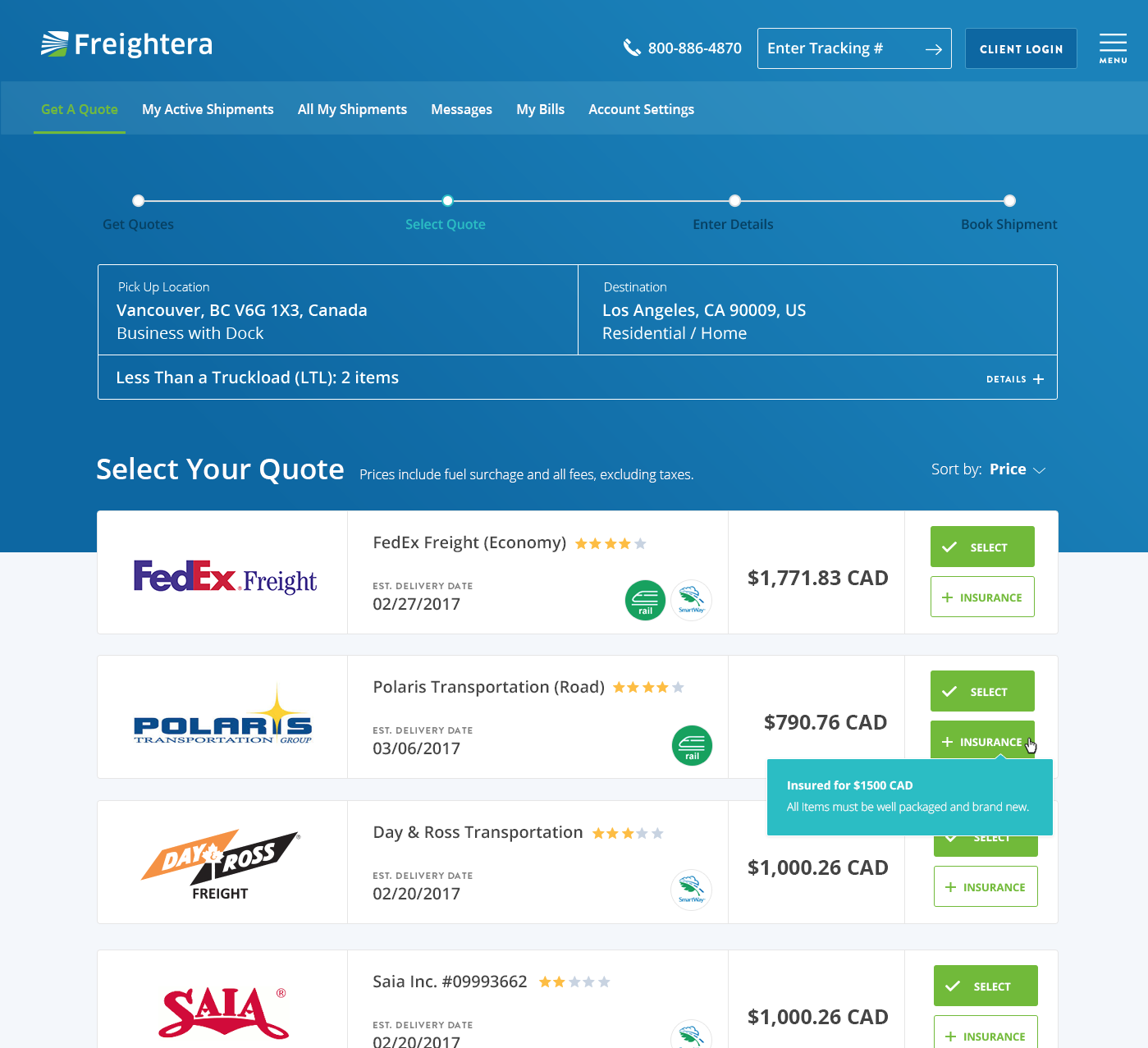 Get the Best Shipping Rates
Carrier posts their broker discount rates and extra capacity directly to the public on Freightera's online marketplace. That's how shippers get better rates. Carriers post last-minute deals as they scramble to fill up trucks delays and cancellations – potentially saving your business a lot of money.
Who Uses Freightera

Businesses shipping goods
Our 6,000+ shippers include manufacturers, wholesalers, importers and distributors who need to ship freight in the most efficient and cost-effective way. It's difficult for all but the largest companies to negotiate volume discounts on shipping. Freightera levels the playing field. And better yet: your membership is FREE.

Carriers
Carriers in North America need a more efficient and cost-effective way to manage their truck inventory. They want an easy way to find new customers without investing more in sales and marketing. Freightera helps hundreds of carriers with these needs, letting them focus on what they do best: getting freight where it needs to go.
Are You a Shipper?
Access the best rates from 100s of carriers. Compare prices and book online 24/7!
Sign up today
Are You a Carrier?
Connect directly with customers who need your truckload & LTL services now!
sign up today
Freightera Team
Freightera's team combines business acumen, technical expertise and a passion for helping customers and creating high impact win-win solutions.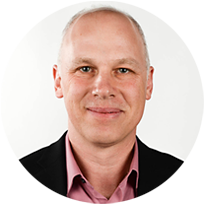 Eric Beckwitt
Founder and CEO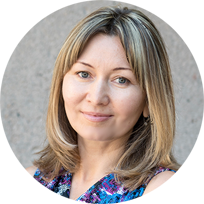 Zhenya Beck
Founder, Product Development and Marketing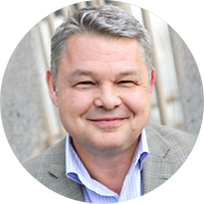 Todd Buchanan
Advisor, Strategy and Execution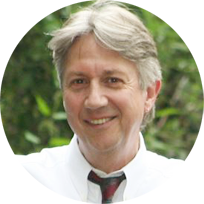 Norris Phillippe
Director of Corporate Finance
Ross Pollock
Director of Operations
Advisory Board
Dan Z. Goodwill is a leader and transportation expert with a successful record of accomplishment in profit development, organic business growth, business startups, acquisitions, turnarounds and cost-saving programs. For over 20 years, Dan held senior executive positions with some of North America's leading transportation companies. As President of Yellow Freight Canada, and Clarke Logistics, and VP, Sales, TNT Overland Express he led these companies to record results. For the past fifteen years he has been providing consulting services in the areas of small parcel, LTL, truckload, rail and intermodal transportation to manufacturers, distributors and transportation companies in Canada, the United States, Mexico and Europe. He co-hosts the Surface Transportation Summit in Toronto.
Stephanie Sharp is a finance expert who has advised and led over $17 billion in deals in more than 400 industries worldwide. Stephanie balances innovative strategies with practical approaches. Her clients include some of the biggest most well-known organizations in the world, such as Bank of America, Barrick Gold, BC Hydro, Best Buy, Deloitte, Goldman Sachs, HSBC Bank and many others.

See What The Others Are Saying About Freightera
We thank our customers for their business, kind reviews & testimonials!
view testimonials
Why We Do What We Do
Why did we join Freightera? What keeps us inspired and motivated? – We thought answering this question would be a good way to introduce our team and our company culture. Here are some of the answers.
I love working at Freightera because it allows me to think and work at the system level. It allows me to assemble and collaborate with an inspiring group of bright, thoughtful people and solve fundamental problems for the individuals that we work with and the larger society we all influence every day. I am happiest when we have first name based relationships with the people at each business we partner with and serve, allowing us to function as a community and work with each other as whole people. I am also really excited to be involved in the transition to low and zero emission freight shipping, and help create and spread a kind, gentle and caring customer culture in this traditionally rough industry.
Eric Beckwitt, Founder and CEO, Chief Luminary
I believe that both in our personal and professional lives we are happy as long and as much as the value we bring to those around us. I saw this focus on contribution across all the Freightera team, so I joined to use the best of my skills to build the best freight product for our customers.
Aristotel Dascal, Product Development Director and Productivity Guru
I choose to work at Freightera for a few reasons that were very important for me in selecting an employer. The first is company culture. It is great to be part of a team that is set on achieving a goal and building something while adhering to values of respect, fairness, and integrity. It is great to be able to come to work every day knowing that my performance and hard work will contribute directly to the outcome of what we are trying to accomplish. Even more so, it is great coming to work every day believing firmly that what it is we are trying to accomplish, though not necessarily easy, will help our customers and carriers and revolutionize an industry that is far from being as simple and efficient as it needs to be.
It is exciting to think that in a few years time we could be seen as the company that rejuvenated this huge outdated industry that we work in.
Julien Levin, Carrier Relations and Logistics Manager
My WHY has to do with innovation, teamwork, and brilliant customer service. When picking up the phone to start new relationships with customers and carriers, there is nothing more motivating than feeling completely confident in the service we offer. My confidence comes from the fact that we offer a unique solution for businesses that saves them major time and major money, and our team is respectful, helpful, and appreciative of one another. Our team is dedicated to exceptional customer service, and it naturally leads to long term relationships with our customers and our partners. Working in such environment is stimulating and rewarding, because I am continuously learning from our customers, our partners, and our team.
Aleksandra Ponarina, Carrier Relations and Business Development Leader
I am happy to be a part of amazing team with great chemistry and complementary skills. Everyone on our team is open, creative, helpful and super friendly. It excites me that we share our mission of improving lives of people around us: our families, coworkers, partners, and our customers - shippers and carriers. Everyone on Freightera team understands that we are here not to make a quick profit, but to make friends and build relationships with people that rely on us and that we rely on. Our reason for existence is to transform freight from an inefficient and stressful industry into a high-tech and high-satisfaction environment. Our customers are hard-working people on their own important missions. We help them by providing easy to use technology, best value and the most appropriate, respectful and caring customer service possible.
We are not just another technology platform. Freightera is a progressive, futuristic company taking social responsibility to people and planet seriously and having fun innovating in everything we do. We have ambitious plans to change the way freight is shipped around the world, dramatically reducing waste and pollution in the industry by using new processes and technologies.
Zhenya Beck, Founder, Product, Marketing and Customer Experience Muse
I work at Freightera because I am treated with as much care and respect, as an employee, as we provide in our customer service. We are people, not machines, and I have a life outside of work, which Freightera cares about and accommodates in every way possible.
I really appreciate Freightera for being able to work online from home. Living in a small community makes work-life much easier in this way and I don't have to commute.
I also enjoy working at Freightera because of the small town feel. Even though the company is based in Vancouver and deals with hundreds of customers, carriers, shippers, and receivers, I get to know people on a first name basis and build rapport with them through our work together.
:-)
Elly Boer, Receivables Manager, Customer Care Angel
Why I work at FREIGHTERA? In one word: RESPECT. Freightera company culture is based on respect. As an employee it is great to feel respected and appreciated. In all our work with the other employees we all have a great deal of appreciation and respect for each other's abilities. Lastly, in all our work with both customers and carriers we strive to have that same respect for everyone we come in contact with.
Ross Pollock, Director of Operations and Customer Care


Go Green: The North American Low Emission Freight Transport Marketplace
Freightera is designed to link B2B shippers to the most efficient, well run carrier or transportation company for each route or service area.
learn more