Kingsway - TST Overland Transport
Kingsway Transport (formerly) is TST Overland Express as of June 4, 2018.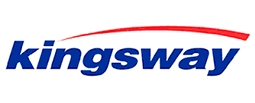 Years in operation

1973 to 2018
With 24 terminals across Eastern Canada, Kingsway Transport offers the most comprehensive direct LTL service network in Eastern Canada. Also offers service in Western Canada with 30 terminals through sister company Canadian Freightways, and North American service to the USA and Mexico via The Reliance Network.
Why Choose Kingsway
Kingsway Transport has been providing superior LTL service within Ontario and Quebec for over 70 years. Their eastern road network includes 24 facilities and direct daily linehaul into the Maritimes to offer businesses reliable, on-time, damage free delivery.
Services
LTL service within Ontario and Quebec with direct daily linehaul to the Maritimes. Offering two levels of service into Western Canada and LTL service to the USA and Mexico using The Reliance Network.
Fleet
Kingsway Transport operates a well-maintained fleet of vehicles with 500 tractor trailers. Kingsway can handle specialized transportation needs including Dangerous Goods, Protect From Freezing, Specialized equipment, Appointments & special services.
Head Office:

Mississauga, ON Canada