Ship to Amazon Fulfillment Centers
Freight shipping tends to be one of the largest supplemental costs of your products.
If your business is shipping toys, glassware, or even mailboxes to Amazon Fulfillment Centers, we can help you reduce shipping costs and ultimately improve your bottom line by choosing the best and most reliable carriers for your lanes.
Examples of essential products that businesses are shipping to Amazon FBA:
Medical supplies

(masks, gloves, paper cups, sanitizers, disinfectants, shoe covers, medical gowns, safety/protective goggles, face shields, thermometers, ventilators, coveralls, zip lock bags, diagnostic equipment, etc.)

Canned goods and groceries
Pet food and pet supplies
Baby products
Health, beauty and personal care products
Household products
Industrial products
Scientific products
On our online freight marketplace, your shipments are booked in minutes, and tracked online, all in one place.
Shipping documentation is automatically generated, and our super-friendly Client Care team is there to assist you every step of the way.
We also have refrigerated trucks available if your product requires protect-from-freeze services..
If you're quoting online on Freightera, please indicate that you're shipping to Amazon FBA by clicking "Amazon" at the delivery location: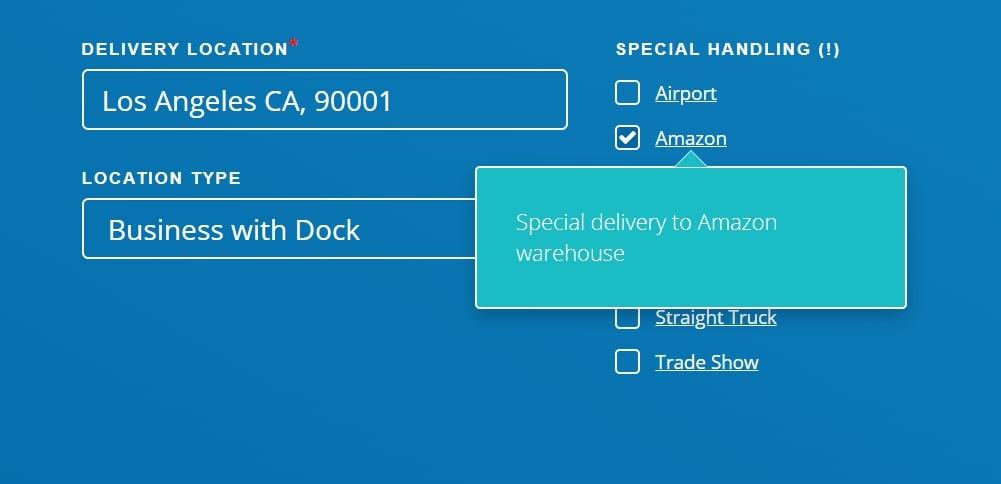 Let us take the burden of freight on us.
All you need to do on your end is provide us with your Amazon Seller ID and reference numbers, and include the number of units and boxes of the product that you are shipping.
Please note that Amazon appointments are scheduled directly through the Amazon Online Portal and neither Freightera nor the carrier have any control over the date or time of the assigned appointment, as this is solely controlled by Amazon.
If you still have any doubts or questions about how to ship your cargo to Amazon FBA, contact our shipping experts and they will guide you through the entire process.
You can do this by chatting with us, by emailing us at [email protected], or by calling (800) 886-4870 Ext. 1.
Get the best freight rates in seconds, for free at Freightera.
We will be an island of stability for you in these unsteady times. 😊
Happy shipping!
Over 20 billion freight quotes in Canada, the USA, & cross-border
Instant quotes, 24/7 online booking
Automated shipment status updates
Automated additional cargo insurance
Automated customs brokerage (coming soon)
Interested in other shipping services?
LTL rate
$135 CAD
Markham ON to Edmonton AB
*Sample rates to ship LTL, 1 pallet, 500lb
LTL rate
$207 CAD
Portland OR to San Francisco CA
*Sample rates to ship LTL, 1 pallet, 500lb
LTL rate
$222 CAD
Toronto ON to Newark NJ
*Sample rates to ship LTL, 1 pallet, 500lb
I saved over 50% using Freightera over my previous company. The customer support staff was very helpful. I will definitely be using Freightera for all my future LTL shipments. Thank you Freightera!!!
SURGICALLY CLEAN AIR - MISSISSAUGA, ONTARIO
Great people! Awesome Service! Wonderful follow-up! Freightera has helped streamline my LTL shipping. I'm looking forward to working with them on my heavy haul shipments.
H2O INNOVATION - QUEBEC CITY, QUEBEC