How do I get a quote?
All you need to know about getting instant freight quotes online


1) Log into your Freightera account
Make sure to log in, or register if you don't already have a shipping account.
We recommend that you sign up and log in before quoting. You'll still be able to quote without being logged in by filling in the quoting information on the homepage, but you won't be able to see the carrier information and the best price.
2) Choose your pick up location
In the 'Pickup Location' field, you can enter either the city or the postal/zip code, and a drop-down menu will appear, so you can click on the city for the pick up location:


3) Select the right location type
Click 'Choose...' and select the right location type from the drop-down menu:


Choosing the right location type is essential to getting an accurate quote. Here is the list of what all location types are:
Business with Dock or Forklift: a business that has a dock or a forklift to load/unload. This location type does not require a tailgate/liftgate.
Business without Dock or Forklift: a business location that needs a tailgate/liftgate, or a forklift. Tailgate/Liftgate option is automatically checked off on the special handling list when this location type is selected:


Residential Area or Home Business: a location that needs a tailgate/liftgate, and is in a residential area. Tailgate/Liftgate option is automatically checked off on the special handling list when this location type is selected. Since residential locations almost never have docks or forklifts, selecting a Tailgate/Liftgate is essential.

You may also want to select a Straight Truck under 'Special Handling' if your residential location is in a narrow street that cannot accommodate a 53' truck.

Construction Site: usually a limited access location without a dock. Tailgate/Liftgate option shows up when this is selected. Please choose a Tailgate/Liftgate if you don't have a dock/forklift at the location.
Carrier Terminal: you can choose to drop off your freight at the carrier terminal, and have it be shipped from there. This is a cost-effective option if your location is a business without a dock or a forklift, or a limited access location such as a farm.
4) Select all special handling services you need
Review the 'Special Handling' options and select all that apply to your shipment: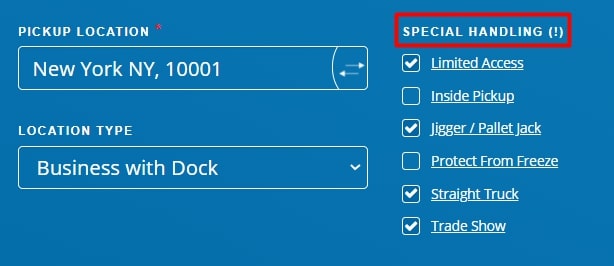 If you don't select all of the special handling options that you need, your quote will not be accurate.
5) Repeat for the delivery location
Follow the same steps for the delivery location.
6) Select the right type of truck
Choose between LTL, FTL, Flatbed, or Container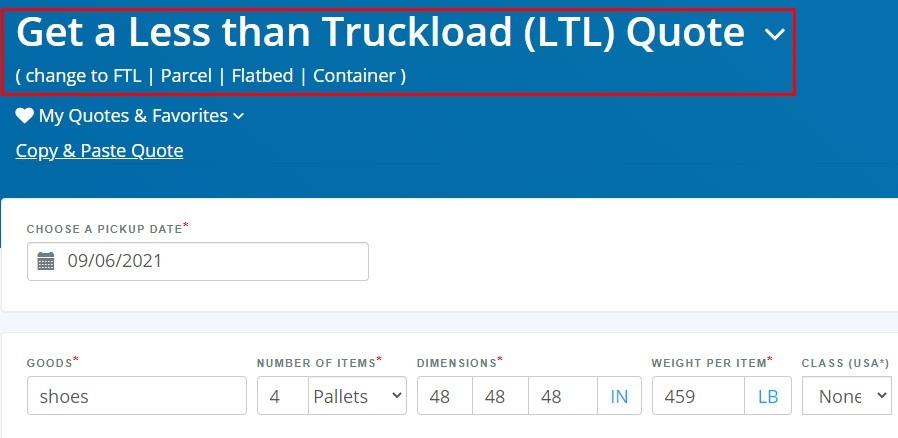 7) Choose the pick up date
Select your pick up date in the calendar:



Please keep in mind that most quotes are valid for 30 days due to the fuel price fluctuation.
8) Write the shipment information
Fill in the quoting form with the description of goods, number of items, dimensions (length x width x height) in inches, weight per item in pounds, and class. Select 'hazmat' and 'non-stackable' if these apply to your shipment.
For brief explanations on what these options are, please hover your mouse cursor above them:



All information needs to be 100% accurate, so you would get an accurate quote.
9) If you need to add another item
To add another item with different dimensions or weight, click this button:


10) If your load requires a temperature-controlled truck
Click 'Temperature Control' and select it in the drop-down menu.


11) You're done. Get your quote!
Click the green 'Get a Quote' button to see your quotes:


12) Requote quickly and easily
Your quote will be saved in the system. Next time you quote, you'll be able to find it under 'My Quotes & Favorites', and requote with a click of a button: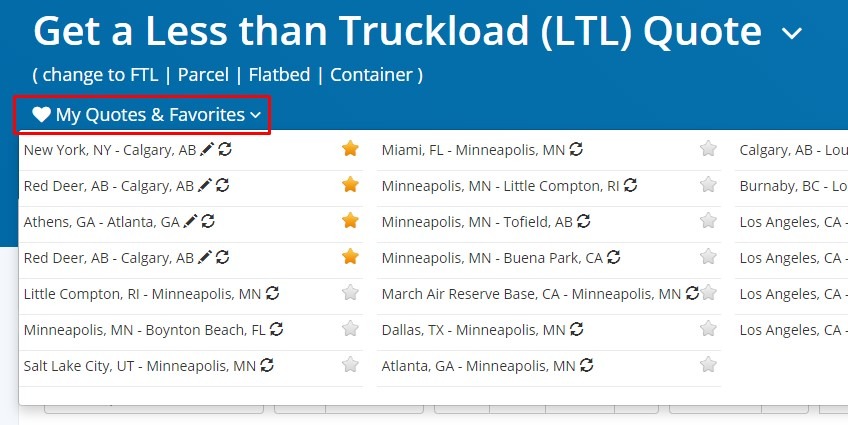 If you have any questions, you can chat with us, call our super-friendly Client Care team at (800) 886-4870 Ext. 1 or at [email protected]
Happy Shipping!