What are limited access locations?
Information on what is considered a limited access location in freight shipping & how to quote if your shipping or delivery location falls under this category (eg. farms, airports, storage, schools...)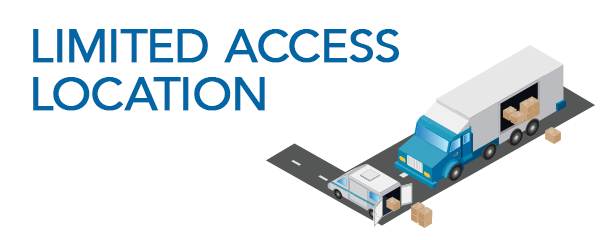 A limited access location may be any commercial or non-commercial site where pick up or delivery is restricted, for one or more of the following reasons:
the location is not open to the general public during business hours;
the pick up/delivery requires setting up an appointment;
the location has gates or security inspections;
the location doesn't have access to a loading dock or platform;
the location cannot accommodate a 53' truck.
The term 'Limited Access' includes, but is not limited to the following:
Airports
Bars
Camps
Carnivals
Casinos
Cemeteries
Churches/Mosques/Synagogues/Temples
Colleges/Universities
Constructions Sites
Convents
Fairs
Farms
Golf Courses
Hotels/Motels/Resorts
Military Base/Installations
Mine Sites
Malls
Medical/Urgent care sites without a dock
Nuclear Power Plants
Night Clubs
Parks
Prisons
Ranches
Restaurants
Schools
Storage Units
Please note that this list is not final, and there could be exceptions.
If your pick up/delivery location is a limited access location, you need to indicate that on the quoting page. If you don't include this information while quoting and you ship from/to a limited access location, the carrier will adjust your final bill with extra charges.
If you have any questions, you can chat with us, call our super-friendly Client Care team at (800) 886-4870 Ext. 1 or at [email protected]