How do I book a shipment?
All you need to know about booking your freight online
Booking with Freightera is seamless and easy!
1) Get a free online quote
First, get your quote online. Here's an article with detailed information on how to get a quote.
2) Check your quoting information
Make sure you have quoted with the right information. If your quoting information differs from your actual shipment information, your bill will be adjusted.
You can check your information easily by clicking 'details' and, if you need to go back to the quoting page and change something, you can click 'change':


3) Choose your carrier
Select the carrier that best suits your shipping needs. You can sort the quoting results (and carriers) by the following criteria: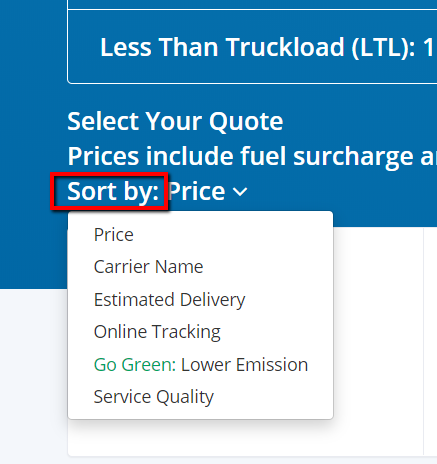 4) Click the green 'Select' button
This will take you straight to the booking page.
5) Fill in all the info on the booking page
Don't forget to fill in the special instructions field, if there are any special instructions the carriers need to follow.
Keep in mind that you cannot change the information that you have quoted with (shipping date, pick up and delivery locations, load description). If you need to change some information, you need to requote.
6) Click the green 'Book Shipment' button
This will take you to the payment page.
7) Download your BOL
After paying for your shipment, please download your Bill of Lading. It will pop up right after your shipment is booked, and you can also find it under 'My Active Shipments' and 'All My Shipments' on your Freightera Account Dashboard. You will need to print it in three copies. One copy stays at the pick up location, one copy must be affixed to the actual shipment, and one copy goes to the driver.
8) You're done!
For information on how to track your shipments click here.
If you have any questions, you can chat with us, call our super-friendly Client Care team at (800) 886-4870 Ext. 1 or at [email protected]
Happy Shipping!